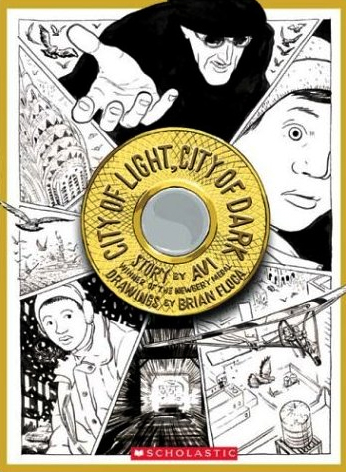 I remember as a child, I would love to go to the library and borrow a variety of books – not all of them were read but I would collect them like a hoarder until my parents complained for me to return them. Regardless of the countless drives to the library, whenever they saw me reading anything remotely similar to a comic they would reprimand me for not engaging in text that would 'enlighten' or 'educate' me further. Interestingly, I was reading a graphic novel by Avi named "City of Light, City of Dark". Which brings me to dilemma that is discussed in scholarly articles as I delved into the positives of using graphic novels in the classroom.
In the past, graphics novels began to be used in an educational context since the 1940s but many scholars and parents argued that these texts were too low-level, immature and not considered to be 'literature'. However, many are using the two terms 'graphic novel' and 'comic' interchangeably, when these two are very different story mediums. Graphic novels are generally much longer, with more complex storylines, while comic books will tell a story over multiple issues. What most of us are commonly exposed to are similar to the Sunday comics in the newspaper, which in turn can downgrade the perception and use of comics/mediums that look similar (i.e. graphic novels) to others.
However, if we shy away from using graphic novels in our classrooms, we disregard the possibilities and benefits that they bring into our teaching. Yunus states that human beings have a natural tendency towards pictures that captures and maintains interest which educators should take advantage of in the motivating power of graphic novels (3462). This is especially useful in ELL contexts where the visuals that graphic novels provide allows for scaffolding and any additional motivation is great when the writing process is such a frustrating and daunting process for ELL students (or any other student!). They also provide a good sense of organization skills in structuring information and create much more of a connection with students with the use of the interplay of images and text.
Frey and Fisher also focus on the benefits of using popular culture such as graphic novels, anime and the Internet in the classroom. When our students are struggling with the traditional canon and ways of assessing, we should incorporate different forms of popular culture to access our students' multiple literacies that are so often overlooked. One of the hardest things I had to deal with during my practicum was the issue of confidence in reading and writing. A common thing I heard while asking students to write was "I can't write", "I don't know how to write" or "I suck at writing". The same can be said for reading – especially when it was a Shakespeare unit – and I struggled to help students take risks in their learning. When I used a graphic novel adaptation of Macbeth, I found that it lowered the anxiety of students and they were much more attentive (bloody deaths!) and did not feel that reading was a tedious or difficult task. In my own high school experience, I was very much stuck in the traditional way of reading, writing and showing understanding. However, as educators, we need to be open to a variety of sources that we can bring into the classroom to enrich and engage our students in a world that is constantly growing and changing how we understand what we are given.
Works Cited
Frey, N., & Fisher, D. (2004). Using Graphic Novels, Anime, and the Internet in an Urban High School. The English Journal, 93(3), 19 – 25.
Yunus, M.M., Salehi, H., & Embi, M.A. (2012). Effects of using digital comics to improve ESL writing. Research Journal of Applied Sciences, Engineering and Technology, 4(18), 3462 – 3469.