Parkades of the Future is a TIPSlab project which will look at what parkades at UBC could become and how they could contribute more to campus society in future. The project focuses on intensification of the uses for parkades and what they could contribute socially and environmentally. Currently parkades are still a singular mono-functional infrastructure/building type. Just as other aspects of the city must densify and become multi-functional, so must the parkades. We will be looking at potentials such as energy, exterior heat-moderated environments, temporary uses, future transportation such as drone landing pads and adaptations such as ground floor alternate uses. Network connectivity to vehicles and other parkades as a way of managing demand and densifying use will also be examined.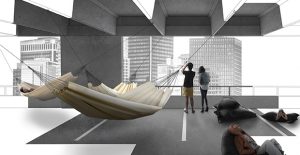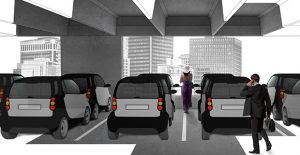 This is a UBC Living Lab project – using the campus as a laboratory to test larger ideas and research. As such we are using UBC's parkades as a testing ground for the ideas generated. This project is partially funded by UBC Parking & Siemens.
This project is finished the study phase and several of the proposals are being implemented at UBC.
---