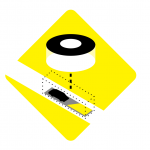 The research looks at the transition into new mobility in a strategic phased approach using tactical urbanism methodologies. It looks both at the physical and the virtual urban realm, highlighting digital infrastructure and the urban 'Digital Twin' concept. The research focuses on the curb space, a ubiquitous, existing piece of urban infrastructure that is re-imagined as a building block for a potential city-wide 'Mobility Hub Network' based on MaaS (Mobility as a Service) and anchored around transit.  The research was realized as part of the New Mobility Research Grant, TransLink,  and as part of  MASA Thesis 'Transitioning into New Mobility – Future Curb Space Design' by Yuval Fogelson.
---
DIGITAL TRANSFORMATION OF PUBLIC SPACE
Chapter 2 of the research defines a framework for inventing a new type of 'space' in the connected urban realm, namely the 'Virtual Urban Realm'. This virtual space is explored from a geographical, urban planning and urban design perspective, relating zoning, the built environment, and the division of public and private space manifesting in the 'Urban Digital Twin'.  Issues around data and public space are looked at, in the context of the data economy and surveillance capitalism. The idea of 'Airportization' explores how mobility space can be reconceived through a process of the creation of a closed system with 'Ground Traffic Control', booking and scheduling slots and an urban interface in the form of a 'Mobility Hub Network'. This leads to the investigation of the 'Virtual Curb Space' and the introduction of the idea of 'Virtual Curb Space Real Estate.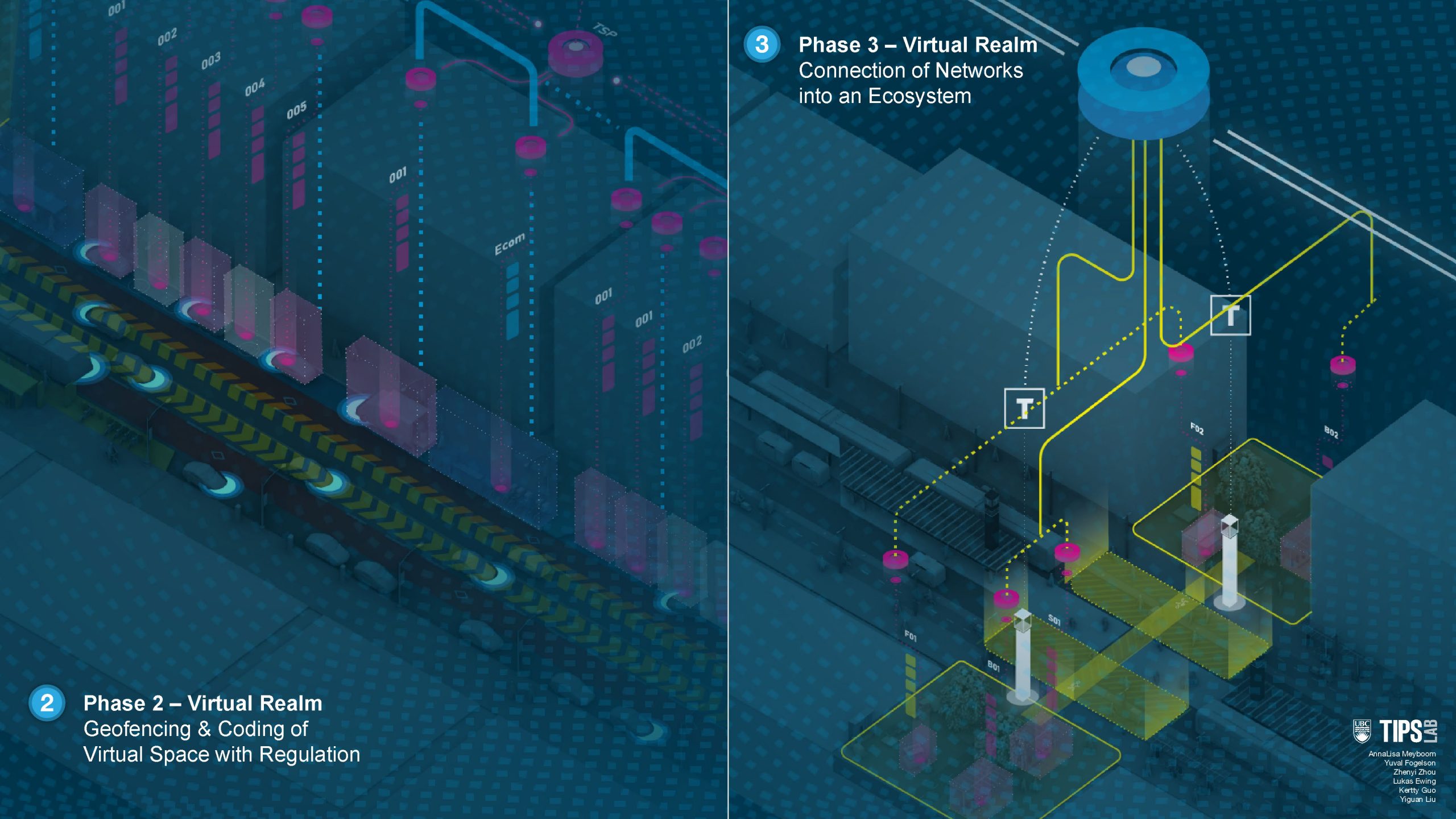 ---
TRANSITION STRATEGY
Chapter 3 of the research deals with the element of time in the transition into a connected, shared, autonomous future. The 'Transitional Design Methodology' lays out a 3-phased strategic and incremental approach that looks at both the physical and virtual realms.  Methodologies such as tactical urbanism are explored, which help deal with uncertainty and unpredictable outcomes of disruptive innovations. The discussion explores strategies to match the update rate of the digital and physical realms, which materializes itself through physical public space re-configuration. The transition process into automation will be looked at more closely and the transformation from silos to networks to ecosystems will be explored. The idea of incubation is explored to accompany the incremental expansion and piloting of new physical and digital infrastructure solutions.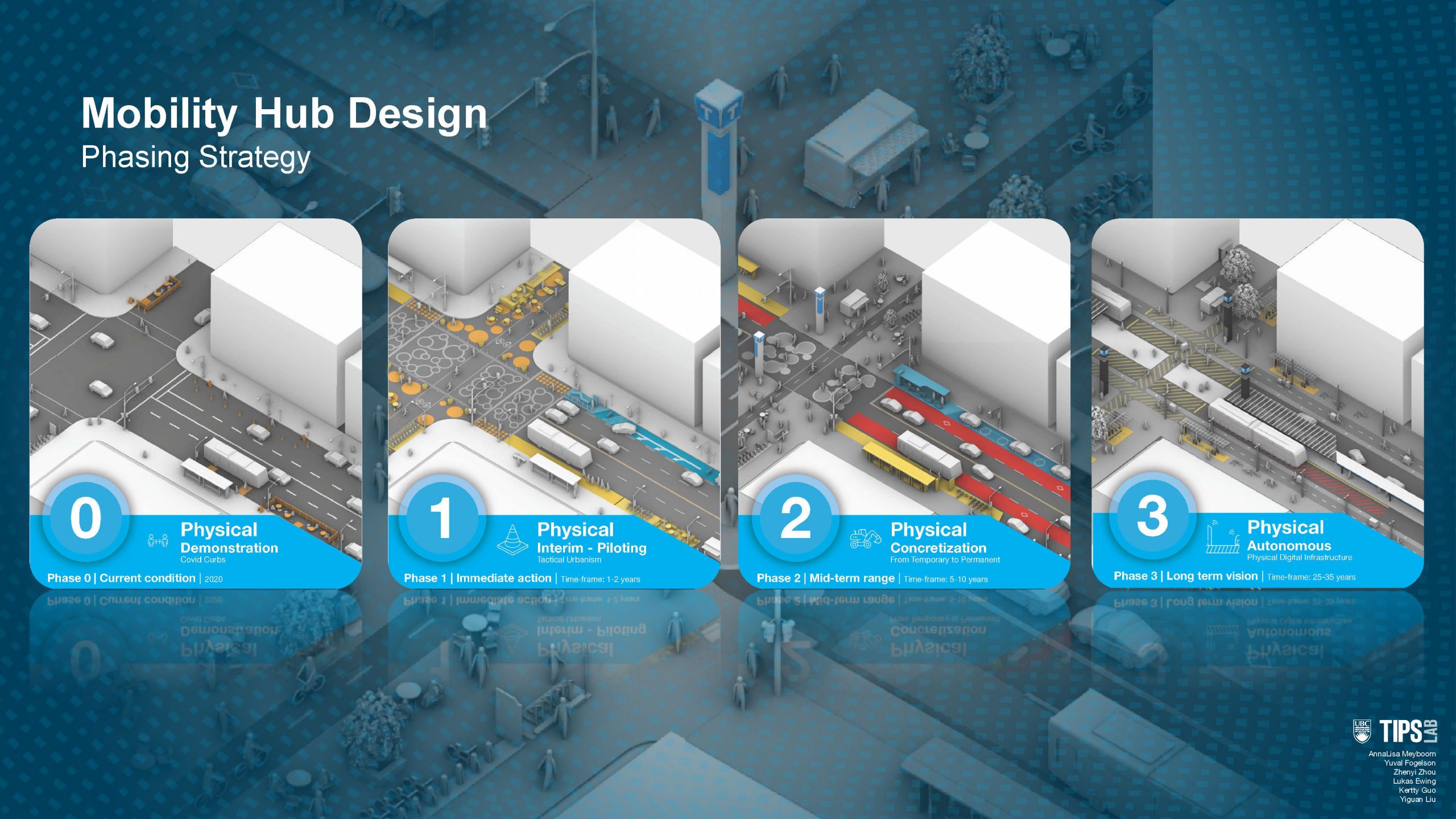 ---
SPECULATIVE DESIGN PROPOSAL
Chapter 4 lays out a speculative design proposal for a hypothetical situation in the urban realm. The design will follow through from the scale of a metropole, with its city-wide digitally connected transportation and 'Mobility Hub Network', with its different urban typologies. In the local scale,  Mobility Hub Design is explored in an incremental phasing strategy using the 'Transitional Design Methodology' explored in chapter 3. The design focuses on the street scale and investigates innovative curb space redesign which is simultaneously digitally connected. The different components of the Mobility Hub are investigated and broken down into phases.
Mobility Hub components include:
Transit + Micromobility (bus, bike-share)
Civic Space (plaza, activation)
Vision Zero (pedestrian, road safety)
Pick-Up Drop Off (ride-hail, taxis, other)
E-Commerce (delivery and loading Zone)
E-Fleet (car-share and fleets)
---
CASE STUDIES METRO VANCOUVER
Chapter 5 takes the speculative design solutions from chapter 4 and explores possible designs for 7 different locations in municipalities across the Metro Vancouver area, served by TransLink. Here, different mobility hub typologies are applied to different locations with suitable characteristics. A phased approach is investigated, which includes innovative curb space re-design. The selection process of the locations is explained, as well as interaction with the different municipalities where each case study is located in. Each location is explored through the lens of the phasing strategy of the 'Transitional Design Methodology', as well as the 'Mobility Hub Design' concepts discussed in earlier chapters.
Case Studies:
Case 1 – Vancouver – West 4th Corridor
Case 2 – Burnaby – Hastings Corridor
Case 3 – North Vancouver – Central Lonsdale
Case 4 – New Westminster – Uptown 6th & 6th
Case 5 – Coquitlam – City Centre
Case 6 – UBC – Campus Gateway
Case 7 – Surrey-Langley – Fraser Hwy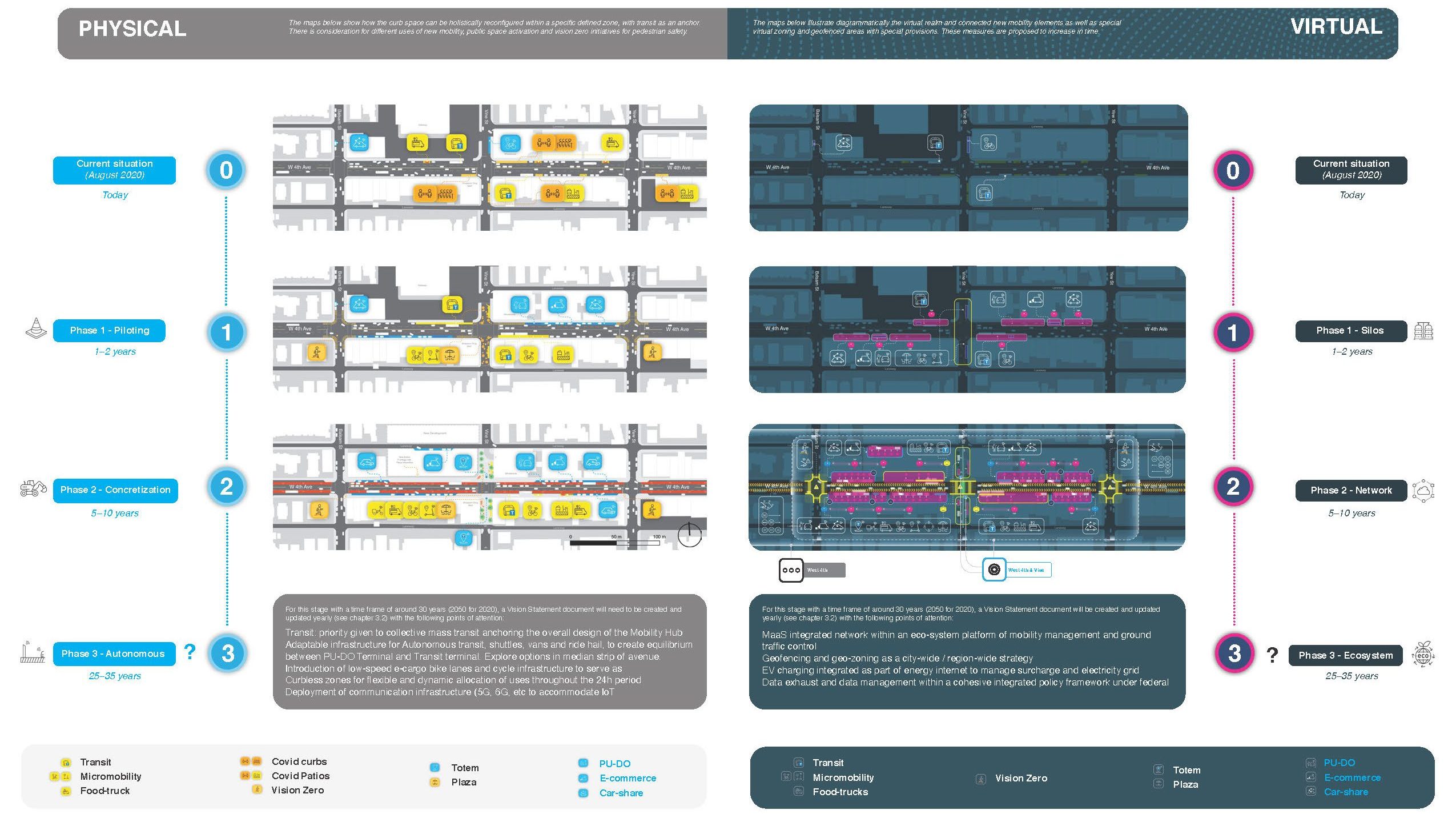 Download Case 1 – Vancouver – West 4th Corridor
---
---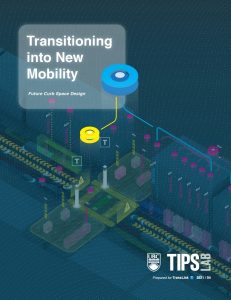 Download Full Report – prepared for TransLink 
Fogelson, Yuval, and AnnaLisa Meyboom. Transitioning into New Mobility – Future Curb Space Design. TIPSLAB Prepared for TransLink. Apr. 2021.
---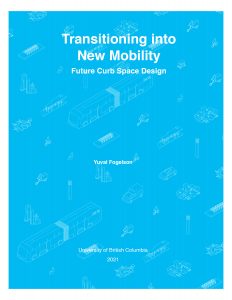 Fogelson, Yuval. Transitioning into New Mobility : Future Curb Space Design. University of British Columbia, 2021. open.library.ubc.ca, doi:10.14288/1.0396952.
---
Lead researcher and designer:
Yuval Fogelson
Undergraduate research assistants, graphic design:
Kertty Guo
Lukas Ewing
Yiguan Liu
Zhenyi Zhou
Principal Investigator:
AnnaLisa Meyboom
2021
---