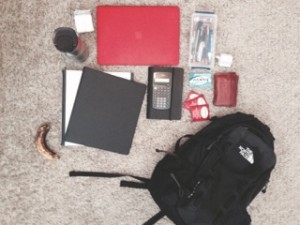 By Ju Young Park
Residence Advisor
If you are always on campus like me running from one class to another, it's really important that you have everything you need in your backpack! These are the things I carry with me everywhere.
Laptop and its charger
Phone and its charger
Agenda
Binders and some paper
Pencil case
Calculator
Wallet with my IDs, room key, bus pass and some money
Thermos& tea bags
Healthy snacks
A pack of gum
Now, what do you carry in your backpack?