Let's Read Comics!!!
With midterms, papers and project deadlines fast approaching, why not find a new way to procrastinate?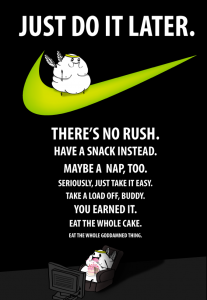 credit to: Matthew Inman at http://theoatmeal.com/blog/justdoitlater
One of my favourite ways to take a quick break is by catching up on a few webcomics-  listed below are a couple awesome online comics that I find are worth perusing during a study break, take a peek!
Edmund Finney's Quest to Find the Meaning of Life
This is one of the first webcomics I was ever introduced to, and it will remain a favourite (just wait until you meet Colonel Mayonnaise). While the comic hasn't been updated since the summer of 2013, it's definitely worth a read-through.
eqcomics.com/2009/03
/08/sunday-aliens/
Chances are, at some point you've seen one of these comics on the internet somewhere, whether you recognize the style or not. While sometimes the dialogue leaves me reaching for a dictionary/Wikipedia, this comic has a huge fan base for a good reason (there's a book and everything, check out "What if?").