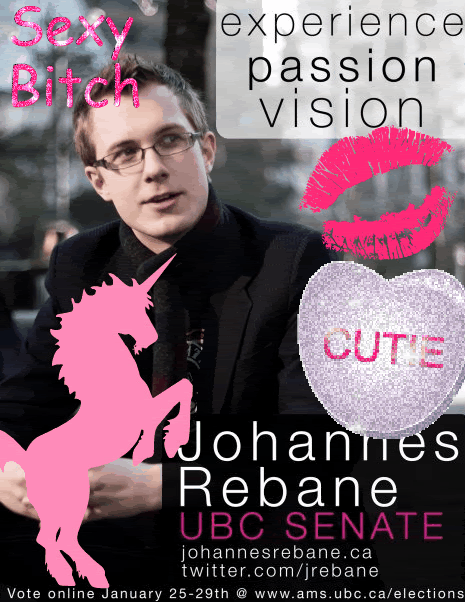 Well, the debate came and went. It was incredibly boring, with the highlight being a member of Issues That Matter attempting to take self photography. We're trying to make this post more exciting by adding SPARKLY GLITTER. Questions from the audience were definitely the sexiest, with Issues That Matter, "Do Me Now" Duncan, Comrade Costeloe, and Chairman Naylor challenging the Senators.
Only 7 of the 12 candidates showed up. Notably missing was His Excellency Blake Frederick, along with Aminollahi, Miriam, Blair, and Alyssa (who participated via Liveblog). No senators wowed us with any personality and seemed to deviate from questions with generic answers or passing the buck to the BoG. Also, most didn't know how often the Senate met, when the next meeting was, or what was on the agenda.
Along with debate fail, there was also fashion fails.If you insist on wearing the pinstripe button down, please make sure it fits you properly and is ironed. AJ looked suave with his square cut glasses and facial hair- definitely hacktastic. Honourable mention to Nader for rocking a scarf and v-neck for that "I'm super sexy" swoon. Johannes, we're requesting you glam it up with a magenta tie to match your posters next time.
Surprise, surprise, Johannes won the poll with 50% of the votes for Sexiest Potential Senator. Thanks for voting, and please come out to the debates tomorrow…AMS President, VP External, and VP Finance Debate 12-1:30pm in the Norm Theatre.