Shinerama is one of those things you hear about all the time but don't actually know what it is. There are currently no events listed on their website, but stay tuned. A while ago we tweeted about how if your team wins their little contest Shinerama, not only do you get a TROPHY but you also get a FREE PIZZA PARTY! University students, as we always say, are essentially the same as second graders.
Anyway, behold the wonderful powers-that-be over in the President's office while they try to explain what, exactly, Shinerama does. Is? Oh, man, we sat through like three meetings about this…
And Now: our skilled scientific analysis.
Who are those sexy hunks of sex appeal? these mysterious morph suit men? The Confidential Investigative team reports.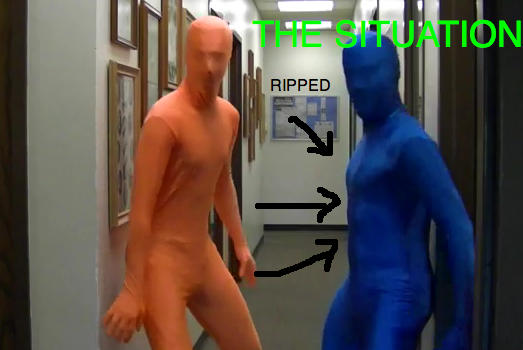 We'd recognize those chiseled abs on Blue Steel any day. Combined with his head size shape, Blue Steel is definitely Ben "The Sitaution" Cappellacci, one of UBC's most eligible bachelors (NB: We said it first, Kate and Darrell). Which means our taller, oranger, chuckling friend could only be… El Rico Suave, Elin Tayyar? Way to expand those portfolios, boys.
Also going on our totally eligible & totally copyrighted list: Shinerama Hottie (Nicole? um, we totally missed her perky, charitable name in all the excitement). In this screenshot, she's totally captivated by the morph men…one of whom seems a little, er, excited.
Let the memes begin! There's already a YTMND (yeah, seriously).