Behavioural Insights at UBC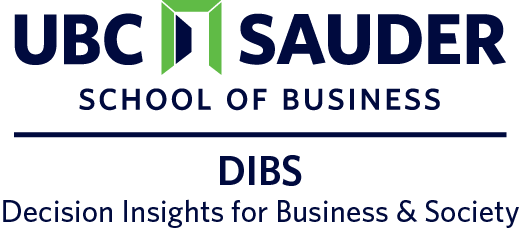 Decision Insights for Business & Society (UBC-DIBS) is a behavioural research and policy solutions initiative at the UBC Sauder School of Business that conducts research, offers Behavioural Insights courses, and hosts events and resources, including the BI wiki and Calling DIBS podcast.

UBC-DIBS Behavioural Insights Seminar
Our online Behavioural Insights Seminar Series features an exciting line-up of researchers and practitioners sharing their field and lab projects that use the behavioural and decision sciences to "nudge for good". Register to attend the 2022-2023 series at https://bit.ly/DIBS-seminar. Recordings of past seminars are below.
2022-2023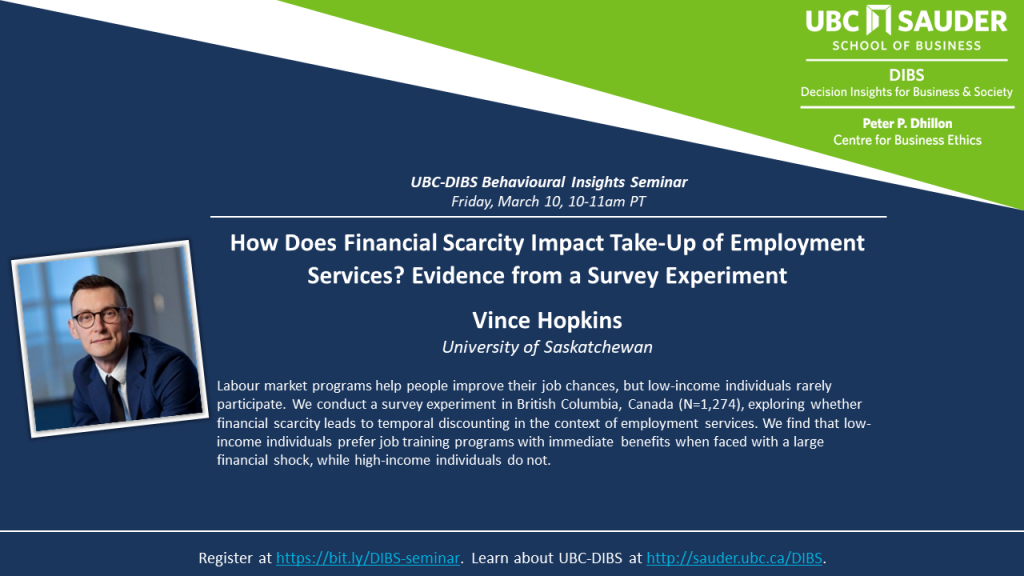 Vince Hopkins (University of Saskatchewan)
"How Does Financial Scarcity Impact Take-Up of Employment Services? Evidence from a Survey Experiment"
[ Seminar ]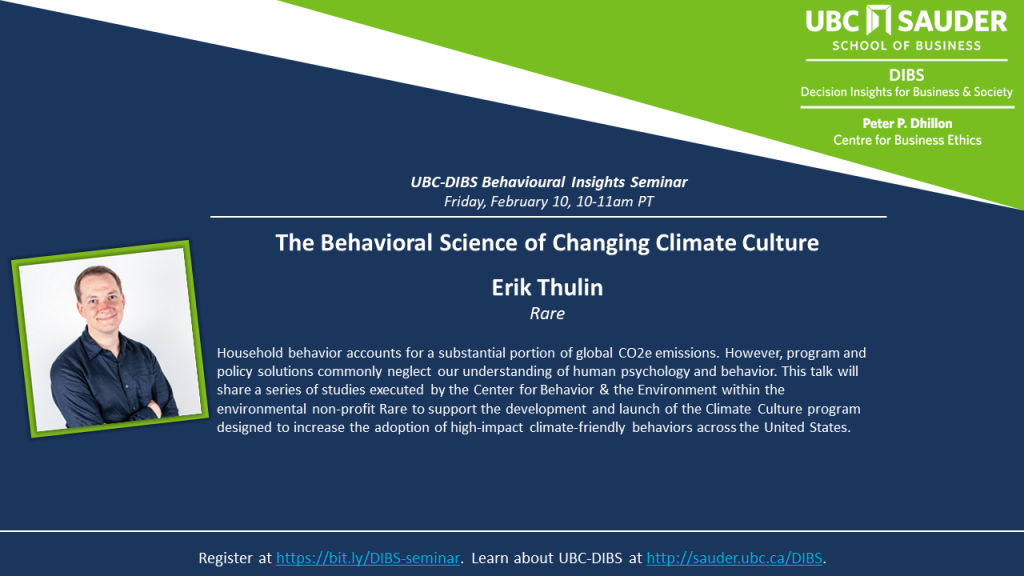 Erik Thulin (Rare)
"The Behavioral Science of Changing Climate Culture"
[ Seminar ]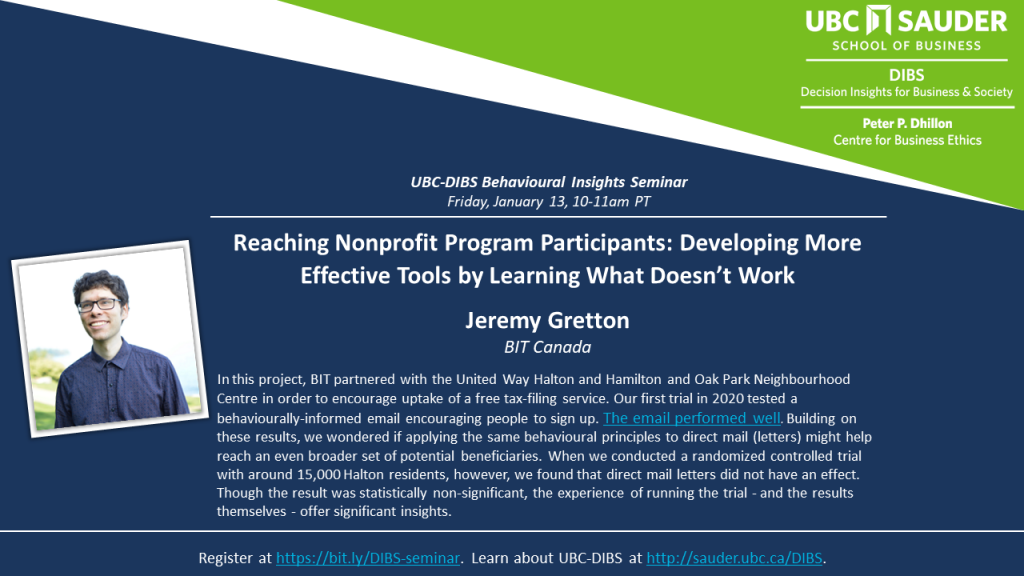 Jeremy Gretton (BIT Canada)
"Reaching Nonprofit Program Participants: Developing More Effective Tools by Learning What Doesn't Work"
[ Seminar ]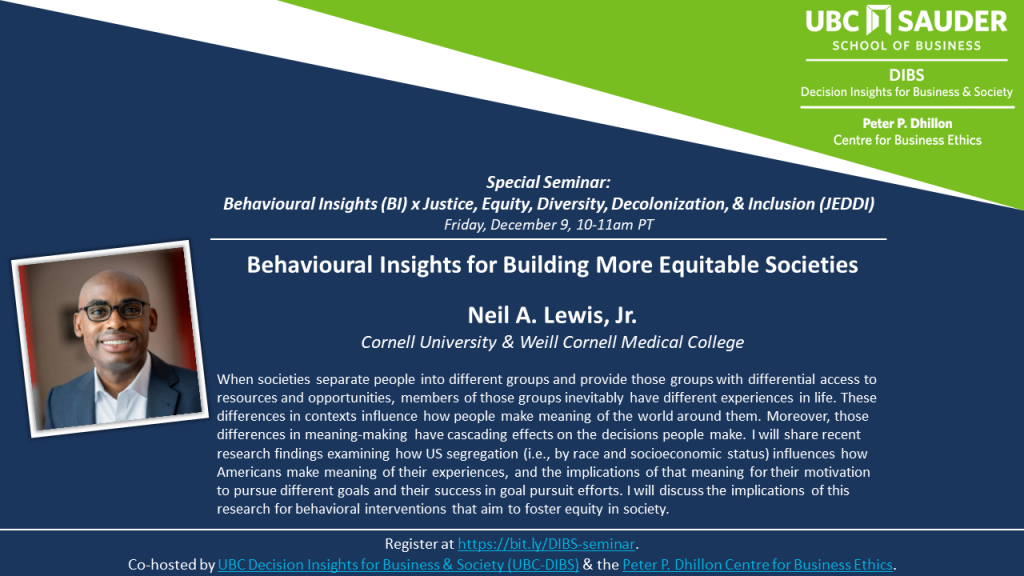 Neil Lewis, Jr. (Cornell University)
"Behavioural Insights for Building More Equitable Societies"
[ Seminar ]
Ellen Peters (University of Oregon)
"Numeracy and the Motivational Mind: How Confidence in Numeric Ability Affects Decision Making"
[ Seminar ]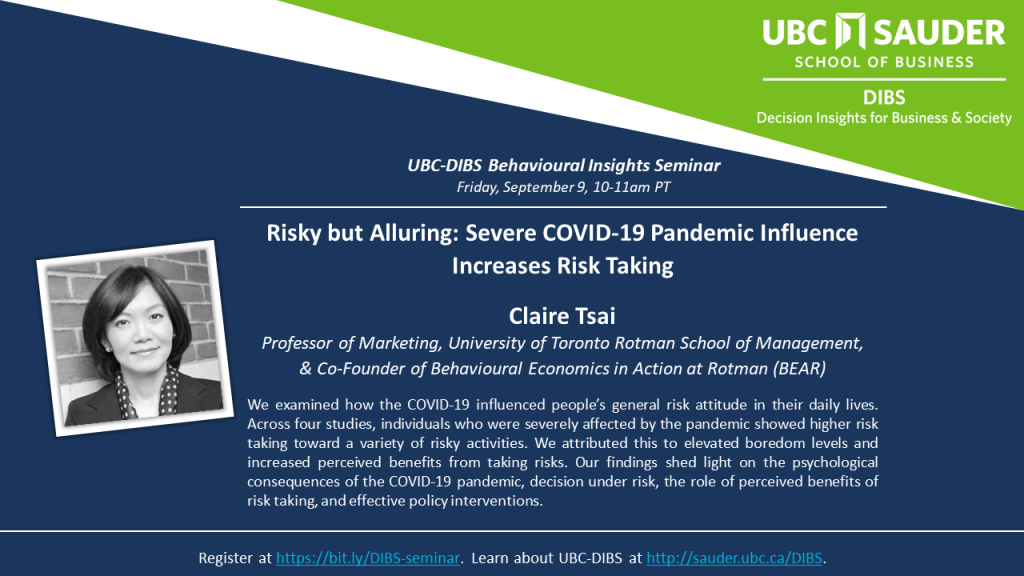 Claire Tsai (University of Toronto)
"Risky but Alluring: Severe COVID-19 Pandemic Influence Increases Risk Taking"
[ Seminar ]
2021-2022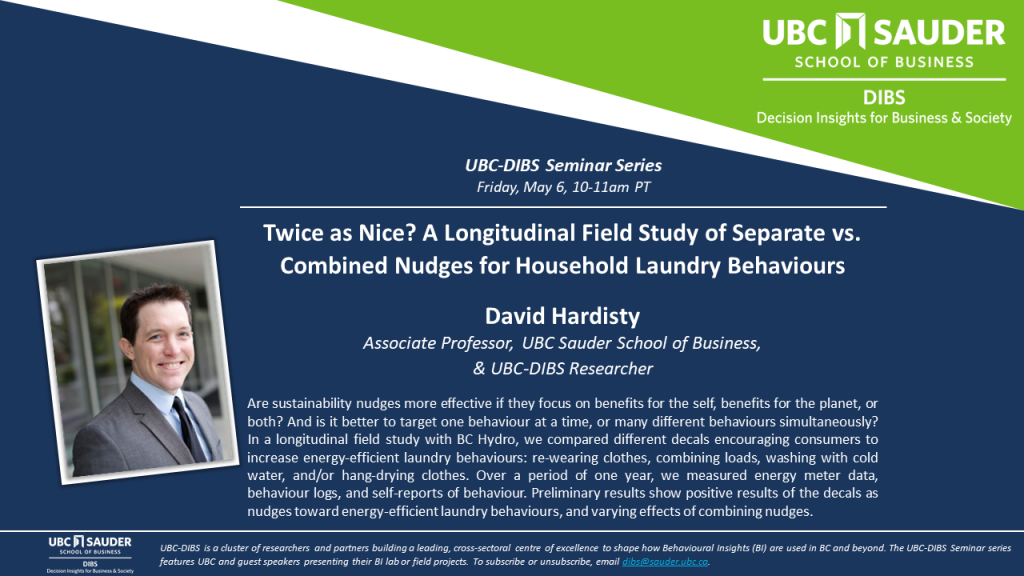 David Hardisty (UBC)
"Twice as Nice? A Longitudinal Field Study of Separate vs. Combined Nudges for Household Laundry Behaviours"
[ Seminar ]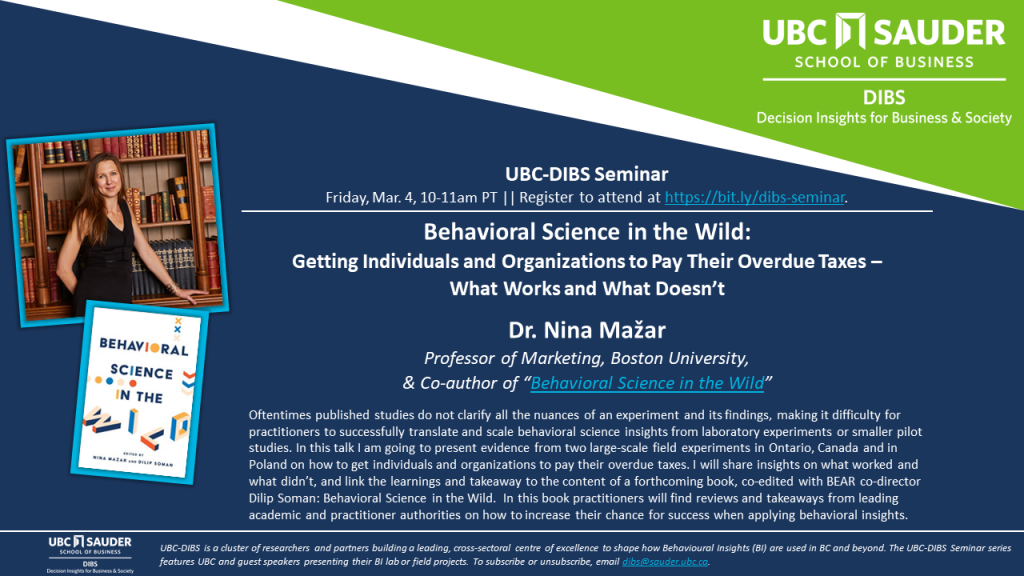 Nina Mažar (Boston University)
"Behavioral Science in the Wild: Getting Individuals and Organizations to Pay Their Overdue Taxes"
[ Seminar | Book ]
Vanessa Bohns (Cornell University)
"Saying "No" is Hard: Implications for Compliance and Consent"
[ Seminar | Book ]
Yann Cornil (UBC)
"Epicurean Nudging: Increasing the Perceived Value of Smaller Portion Sizes"
[ Seminar ]
2020-2021
Jiaying Zhao (UBC)
"Using Cash Transfers to Reduce Homelessness"
[ Seminar ]
Kate White (UBC)
"When Do Advance Gratitude Expressions Encourage Prosocial Behaviours?"
[ Seminar ]
Note: Book links are to Massy Books, an Indigenous owned and operated bookstore located in Vancouver.
UBC-DIBS Community

UBC-DIBS collaborates with the BC Behavioural Insights Group to lead BIG Difference BC, a network of BI enthusiasts and experts from government, academia, and across the public, non-profit, and private sectors in British Columbia and beyond.
Monthly newsletter: Subscribe to our monthly newsletter that shares news, "choice events", "choice reads", BI tips and case studies, and other opportunities and highlights from across our network.
Regular blog: Read our blog for a wide variety of content, including glimpses of how practitioners use BI, examples of BI in the wild, case studies, topical issues, and guest posts from community members.
Annual conference: Our free, online, annual conference celebrates using the behavioural and decision sciences for positive social impact across topics and sectors in BC and beyond. Register for this year or check out previous years' programs.
Our Partners
UBC-DIBS is fortunate to collaborate with and be supported by an amazing network of organizations across sectors.
Acknowledgement
UBC-DIBS is located on the traditional, ancestral, and unceded territory of the xwməθkwəy̓əm (Musqueam), Skwxwú7mesh (Squamish), and Səl̓ílwətaʔ/Selilwitulh (Tsleil-Waututh) Nations. We gratefully acknowledge these peoples, who for millennia have passed on their culture, history, and traditions from one generation to the next in this area. As behavioural scientists, we also know that words are not enough. We are exploring how Behavioural Insights and Indigenous ways of knowing and being can be mutually supporting. We are also working to add relevant resources to the wiki, such as podcast episodes featuring Indigenous voices and exploring how Behavioural Insights can contribute to Reconciliation.
Upcoming & Recent BI Events at UBC