Hookah (also known as shisha or narghile) is a waterpipe that is used to smoke tobacco, flavoured molasses , and other substances. Its origins date back to India several hundred years ago. It was popularized when it first arrived in Turkey during the Ottoman empire. The actual smoking instrument itself is called a hookah where as the tobacco that is soaked in honey or tobacco is called shisha. There are different compartments that make up the apparatus such as the bowl, windscreen, hose, stem, water container, ashtray, and the gasket. The flavoured tobacco or non-tobacco molasses mix is packed into the bowl, covered with tinfoil, and then hot coals are placed on top.  The smoke passes through the water chamber and is then inhaled by the user. Hookah comes in many different flavours such as grape, chocolate, and mint.
In recent years, shisha has become more and more popular, especially among younger people. It is also become more and more common in different media such as music and television. Along with this increase in acceptance in the North American culture specifically, there is also a  notion that hookah isn't that harmful, or at least not compared to other substances such as cigarettes. But is it really?
There is a misconception that smoking hookah is relatively safe. The charcoal used to warm up the tobacco produces large levels of carbon monoxide, metals such as arsenic, lead, and nickel, plus carcinogens. The amount of smoke that is inhaled during a shisha session is also troublesome. A normal sitting lasts around 45 minutes to an hour which translates to a few hundred puffs of heavy drags. The smoke is associated with an increased risk in developing ailments such as heart and lung disease. Sharing the mouth piece with other participants also increases the risk of transmitting diseases such as oral herpes or hepatitis.
Another misconception related to hookah is that it is not thought to be addicting. Smoking tobacco with a hookah delivers nicotine to your body, the addictive portion of cigarettes. The reality of the matter  is that smoking hookah is just as dangerous as smoking cigarettes, if not more.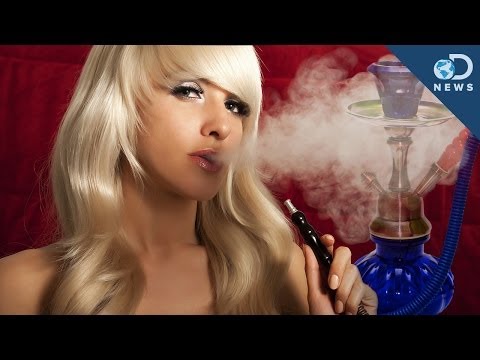 Vdeo comparing the hookah and cigarettes
Non-tobacco hookah is the healthier alternative to smoking tobacco with a hookah, but it is still dangerous in it's own right. It is important that the general public is properly educated about the adverse effects of this practice to avoid unexpected health problems. This problem has led countries like Canada to crack down harder on this substance for the best interest of its residents. It is best to avoid these harmful products, but if you do indulge, moderation is best.
Zohaib Mahmood
REFERENCES:
http://www.quitshisha.com/blog/social-effects-of-shisha/12-secrets-you-should-know-about-shisha/
http://www.cdc.gov/features/hookahsmoking/
http://www.mayoclinic.org/healthy-living/quit-smoking/expert-answers/hookah/faq-20057920
http://www.health.umd.edu/sites/default/files/Hookah%20Brochure-%20Final_0.pdf
http://www.theguardian.com/society/2011/aug/22/shisha-smoking-how-bad-is-it
http://www.hookahu.com/pages/Hookah-Components.html