Category —
2.3. Abuse and Neglect in Children
Abuse and neglect1 (see full Glossary) may happen in different ways. It is important to consider the following:
The type of abuse or neglect;
The person or situation involved;
The degree and duration of the abuse.

These factors all have an impact on the child's development in different ways. Sexual abuse (see full Glossary) and physical abuse (see full Glossary) may cause bruises, but all abuse destroys a child's development of trust in their world, their sense of safety and control, the way they think about themselves, their self-esteem, and their ability to explore and experience the world in a safe way.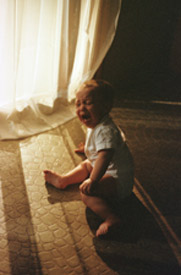 Figure 1. Fear and anxiety
Recent brain research reports have revealed the impact of stress related to fear and anxiety (Fig. 1). Anxiety and stress cause stress.  Stress impact the body of the child. The body responds to the stress with a flood of a chemical known as cortisol. Cortisol creates a poison in the brain that shuts down, or "inhibits,"the neural pathways (Fig. 2) from growing and developing. Stress and trauma can in fact poison the brain because their effect destroys brain cells. They also affect the way the brain functions. For example, a child who survives trauma can miss some of their developmental milestones when they experience abuse and/or neglect. They may also "go back" or regress (Fig. 3) in their development.
Figure 2. Neural Pathways
Figure 3. Regress
When a child is physically, emotionally, sexually or verbally abused, they may not trust their primary caregivers and may feel unsafe around them. These children are likely to develop insecure attachment to those close to them. Children who experienced insecure attachment tend to struggle with forming healthy and loving relationships with significant others later on as adults. Children who are abused often grow up to abuse or be in abusive or unhealthy relationships.
How do we respond to child abuse/neglect?
An infant or child is dependent on their family. It is usually very difficult for children who are abused or neglected to report the problem to anyone. This is why it is important to be aware of the signs of child abuse and know what to do about it. Children may not able to express or protect themselves. For all of these reasons, it is the responsibility of society and the community to protect children from harm.
We have laws in Canada that require adults in this country to report abuse  or neglect to local authorities, generally social workers or police (911). This must be done right away, as soon as a child tells someone they are being abused or neglected.  If an adult has any reason to think that a child might be abused or neglected, this also needs to be reported right away.
When a child tells an adult about abuse, it is important to believe them. Listen openly and calmly. Reassure the child and be supportive. Tell the child that what happened is not her or his fault. Write down what the child tells you, using the child's exact words, and contact your local police or child welfare agency
1 Sources:
Health Canada, Canadian Incidence Study of Reported Child Abuse and Neglect, Final Report, 2003.
Robin Badgley et al., Sexual Offences Against Children: Report of the Committee on Sexual Offences Against Children and Youths, Volume 1. (Ottawa: Supply and Services Canada, 1984.)
Child Abuse Blog (D. Barriere) at  www.child-abuse-effects.com/child-abuse-intervention.html
February 16, 2011 No Comments