For just under a year, I have been involved in a collaborative project concerning educational leadership (EL) in faculty member careers.
This initiative involves (1) clarifying what EL is in the context of faculty member careers and (2) helping faculty members articulate the evidence and impact of their EL activities.The people with whom I am collaborating are Dr. Simon Bates (lead) and Dr. Simon Albon. Though my involvement is in the UBC context, this is part of a larger international Universitas 21 project.
One of the reasons that articulating evidence and impact of EL matters is because Educational Leadership Stream faculty must be able to do so to advance their careers (see note 1). However, since EL is a concept people are still trying to figure out, it is not yet 'obvious' what counts as evidence and how to communicate the impact.
We have begun to develop some resources to help with this and are workshopping them with faculty members and others to get their feedback.
The tool I wish to share about in this blog post is the Educational Leadership Mapping (ELM) tool.  The ELM tool is an organizing framework that can help instructors begin to categorize and make sense of their EL activities. This two-dimensional framework asks instructors to plot what they do related to teaching/learning and the forms of enactment. Learn more here.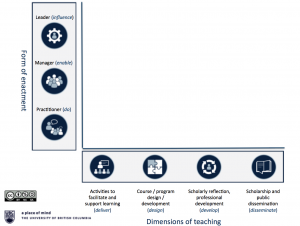 Download the ELM tool here as a PowerPoint slide.
In our experience, faculty members have an easier time plotting along the horizontal axis than on the vertical; they can find it difficult to distinguish between "Manage" and "Lead" and may have a (negative) reaction to the word "manage". The distinctions made on page 2 of The University of Glasgow's Guidelines for Learning, Teaching & Scholarship Track may be helpful for distinguishing where to place an activity along the vertical (i.e., items in the Professorial list would match up best with "Lead").
Our work is ongoing and we welcome your feedback. We will be presenting this work at the 2017 POD Conference in Montreal and I will be writing more posts on the topic as we prepare for that session.
Note 1: Though faculty members in the Educational Leadership stream MUST demonstrate EL, faculty members at all ranks and appointments may be engaging in EL.
Photocredit: https: //flic.kr/p/8X2jaV.photosteve101  planetofsuccess.com