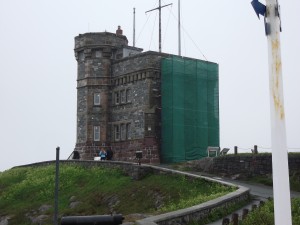 One of the interesting things about being a physics teacher is an opportunity to discover many exciting physics-related things anywhere you go. I just came back from the meeting of the Canadian Association of Physicists in St.John's, NL and I thought of posting a list of interesting attractions in the area that might be linked to physics teaching… So here is my list:
1) Icebergs  and their impact on the environment, how they are formed, etc. For example, check the Iceberg Festival link.
2) Titanic… There are a number of resources on Titanic on the web, including some papers on the physics of the Titanic disaster. Titanic sank about 500 km away from St. John's.
3) Signal Hill – Marconi, radio, wireless communication, the Transatlantic telegraph cable… (see photo)…
4) Whales – the physics of a whale is amazing. It reminded me of a very interesting course I audited at UBC that was taught by a Physics Prof. Boye Albon and his colleague from the Department of Zoology. Boye wrote a very interesting book titled "Zoological Physics". I think it can be a great resource for a teacher or for any curious person. The course Boye taught then was great and among many interesting topics, we had a very interesting discussion about the physics of whales… The whales of NL are different ones from the whales we have in British Columbia…
5) St. John's is the most Easterly point of Canada (and North America). This is interesting by itself…