How do you know that your kids have grown up? When you come to Science World and you realize that you haven't been there for a while…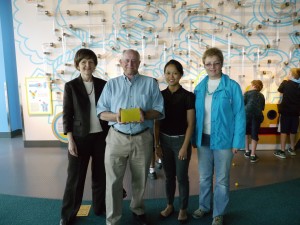 I have been volunteering with the Scientists and Innovators in the School organization since 2006. This organization is run by the Science World and it bridges scientists and teachers. As part of this volunteering I have visited dozens of schools all across BC, conducted science demonstrations, presented workshops, interacted with thousands of students and teachers. Yesterday I visited Science World to help conduct a workshop for new volunteers. As a thank you for the volunteering, the Science World will place a special tile in the newly designed Ken Spencer Science Park that is now under construction. The park is going to be a great attraction for children and their parents.
As our kids now have almost grown up we do not visit Science World as often as before. We have always had a membership and would come many times a year. When I visited yesterday I was amazed by all the wonderful renovations and new exhibits they have created. I just loved it… I hope Science World will continue inspire the generations of students for years to come…
And we will be visiting Science World before the beginning of a new school year. The Leonardo Da Vinci Exhibit I visited very briefly yesterday was just magnificent. I love the hands-on parts of the exhibit and the explanations of all the devices he designed… We are so fortunate to have the Science World here in Vancouver.