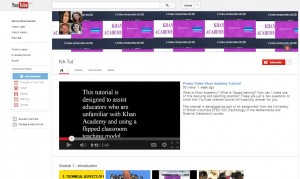 This summer I had an amazing opportunity to teach an online graduate course in the Master of Educational Technology Program at UBC. I was a little bit apprehensive of it at first – a new graduate course (I taught four new courses this year, three of them I designed), teaching all summer long, teaching online… However, it was so worth it… First of all, these students have been taking online courses for awhile and they are experts on how to work in this environment. Second, they do love what they do and they have a wealth of knowledge about teaching their subjects, as well as about educational technologies. From teaching this course (as well as my other grad courses) I can certainly see why adult education is such a different experience from teaching undergraduates. Third, these students were very open about working in teams and they knew each other well (many of them took other courses together). Lastly, they also helped me with many aspects of the course. For example, CONNECT (BlackBoard) was new to me, but we had people who knew about it and they helped me out. Their knowledge of educational technologies and readiness to help was just great.
Working with mathematics and science teachers who love what they do and who are thinking of how to improve their practice is a gift.  As I have always been concerned about linking theory and practice, I have been thinking about how to make this course valuable for their teaching… I wanted this course to have an impact on their practice. An idea of Professional Development and Educational Technology Leadership came to mind. As part of the course the students have created Educational Technology Tutorials that were to model (and hopefully be used) as a possible Professional Development event for mathematics and science teachers who are interested in the use of technology in Mathematics and Science education. As this was a new graduate course, I didn't know what to expect. My main goal was to create materials that will help these graduate students who are exceptional mathematics and science teachers in their educational technology leadership in their schools, so they can bring what they learned in the course and from each other to their schools.
I didn't expect the results we have got…What came out of this project far exceeded my expectations. You can see for yourself and I hope you will use these amazing Educational Technology Online Tutorials for your own teaching and learning. I posted more about each one of them on the MSTLTT Database web site – our resource for mathematics and science teaching and learning.
I am of course biased and not very objective here. But I didn't create these tutorials – the ideas were of the students, so I am not bragging about my own work (although I am very proud that I came up with this idea of tutorials, so I am bragging a little bit). I am very proud of what these wonderful mathematics and science teachers have created.
So here are the results of their work and you be the judge:
| | |
| --- | --- |
| Tutorial topic | Comments |
| Khan Academy and Flipped Classroom | Great set of very short video clips that will get you started with Khan Academy and flipped classroom. It will be great for teachers, students and parents… |
|  Google App (GAfE) Tutorial for High School Science Classroom |  Wonderful website on how to use Google Apps for teaching. It is a great resource as the tutorial focuses on both technical and pedagogical aspects. |
|  Geogebra in Mathematics Classroom |  If you want to change how your students learn mathematics and geometry, take a look (Free resource). Notice, it has a huge community with lots of great activities, lesson plans, and ideas for teaching and learning. |
|  iPads in Math & Science Elementary Classroom |  Have an iPad, but do not know how to use it in your classroom – use this engaging tutorial to get started. The focus is on elementary classroom, but I can see it extended to K-12. |
| Student Response Systems in Math and Science |  Clickers, student response systems or BYOD (Bring Your Own Device) response systems are explored in this wonderful tutorial. Notice, your students can use their Smartphones and you do not need to pay lots of money to get them engaged. |
|  Edmodo in Math & Science Classrooms |  If you use Facebook, but cannot use it at school (due to the age restrictions) and keep wondering how social media can change your classroom, take a look at this great resource! |
|  Canvas by Instructure in K-12 education |  Class Management Systems: if you have about them but are afraid to get started, don't wait any longer. This interactive tutorial will help you! Canvas is one example, there are others, but this tutorial will help you see a big picture. |
One thing would have been great if we could meet all as a group in Vancouver. I hope they come here for graduation!