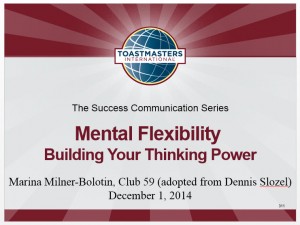 December is often the time when we think of our New Year resolutions. For some of us they stick, while for others, they fade away during the first few weeks of January. In this post, I would like to write about the New Year resolution I made in 2010 – to improve my public speaking skills and to make new friends (I moved back to Vancouver at that time). As a result, I made a choice – to join Toastmasters International Organization – Club 59 in Vancouver. My  initial motivation to join a TM club was to improve my public speaking skills. I didn't know what TM was about and I thought so I decided to check it out. As a teacher, I speak a lot and, in some ways, I am a role model for my students – future mathematics and science teachers. Therefore, it is important for me to make sure I show a good example for future teachers. Since I wanted to join a Club outside of UBC, I decided to look for clubs somewhere in Kitsilano. I also wanted to join a Club with a well-known history and active and diverse members. In 2010, I joined TM Club 59 in Kitsilano, Vancouver. It is a great community (and the location of Kitsilano Yacht Club makes it spectacular) and I found there much more than an opportunity to improve my public speaking. I found a group of very inspirational people – people who decided to work on conquering their fear of public speaking and becoming the best they can be.  You might think that these are people who do not speak well – on contrary – the level of speaking is amazing. It is almost as if you joined a very famous gym – people who go there are amazing athletes and just by looking at them you are inspired to become the best you can.
Interestingly, the public speaking anxiety, is still number one anxiety on the list of various phobias. While looking at out club members it is hard to believe, as it seems as if people speak at ease, people know how to introduce each other, how to lead a meeting and how to speak of the cuff. Yet, it all appears easy and smooth because Toastmasters Organization teaches you to work on yourself and this inevitably bear fruit. I found this on the web site dedicated to lawyers – yes, even lawyers have to conquer public speaking anxiety.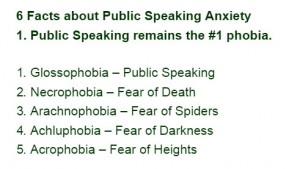 Toastmasters teach you how to listen, how to provide feedback and how to become a more flexible person. Yes, you heard me right. Body flexibility can be developed in the gym, but mental flexibility can be developed in Toastmasters. Both kinds are very important to you and both can be developed! Last night, I presented a speech on the topic in my club and I would like to share it with others. I hope you find it useful. Before posting it, I wanted to acknowledge Mr. Dennis Slozel (another TM) who prepared this speech earlier. I used his ideas, developed them and came up with my own presentation on the topic. I in turn share what I have done with others.
Mental Flexibility_MMB_Final (PPT)
Mental Flexibility_MMB_Final (PDF)
I wish you a great New Year – may your 2015 resolutions include joining a TM club and may you stick with these resolutions. I know, perseverance pays off.