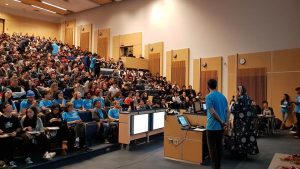 We held our 40th UBC Physics Olympics today: http://physoly.phas.ubc.ca/ . It was an extraordinary event. We had 6 very successful heats that the students were very excited about. We also had a record number of teams and students: 73 teams and 721 students. We had teams from all over BC and we had teams with more than 30 students.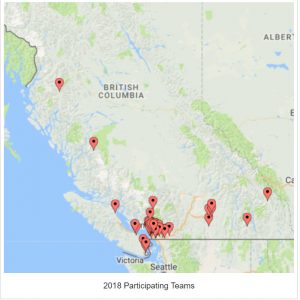 In addition, I facilitated a professional development event for teachers that was attended by 35 teachers! We had two very successful BC teachers present their ideas: Mrs. Giselle Lawrence and Mr. Pouyan Khalili. Our event focused on new British Columbia science curriculum and on different ways of facilitating inquiry in a science classroom. The enthusiasm and excitement were in the air for the entire day – from 8 am till almost 6 pm.
Finally, we had a number of special guests – the journalists from the local newspapers, as well as the Dean of Science and the Head of the Department of Physics and Astronomy. It was a big celebration of four decades of collaboration between the Departments of Physics and Astronomy (Faculty of Science) and the Department of Curriculum and Pedagogy (Faculty of Education) that successfully engages students and teachers in physics. I am looking forward to the next 40 years!
FYI, here is a brief numeric overview of the 2018 event:
Infinity – The number of laughs and the level of excitement
1352 km – The distance from Terrace to Vancouver (the most remote school attending the event)
722 – Number of students attending the 40th UBC Physics Olympics
365 – Number of days we spent planning the event since the last year
108 – Number of medals awarded to top teams
82 – Number of team leaders (teachers and coaches) supporting the students
73 – Number of teams in attendance
71 – Number of volunteers supporting the event (faculty, graduate and undergraduate students)
40 – Number of UBC Physics Olympics we have organized so far
39 – The size of the largest team in attendance
35 – Number of physics teachers who participated in the Professional Development event
10 – Number of times Penticton Secondary School has won the overall event since 1977
6 – Number of heats (independent events during the day)
6 – Number of plaques awarded to the schools
2 – Number of pre-build events the students had prepared at home
2 – Number of large auditoriums we had to use to seat all the participants, coaches and volunteers for the final event.
1 – Number of Officers of the Order of Canada who facilitated our events (Dr. J. Matthews)
1 – The overall Physics Olympics Trophy
The photos from the event can be found here.