As the school year is coming to an end, it is a great opportunity to reflect on the highlights of this year for me. I would like to mention 7 special opportunities I had this year that made it all worth it for me:
My EDCP 357 Physics Methods Course

– was a wonderful opportunity to inspire and be inspired by new physics teachers. We had an exceptionally strong group of physics teachers and I am enormously grateful for that. You can see t heir projects and contributions to our video collections here: https://www.youtube.com/channel/UCHKp2Hd2k_dLjODXydn2-OA
EDCP 544 Graduate Course in the MED in Science Education Program: The graduate students in our Master's Program, who are practicing STEM teachers, inspired me to think of innovative use of technology in STEM education. This was a fantastic group of teachers who also shared with me their STEM education projects. For example, this one was related to the use of Phyphox in physics teaching: https://phyphoxpd.weebly.com/ and there were many other great projects.
Students and teachers who participated in the 42nd UBC Physics Olympics made me so happy and proud of their work. This was a very meaningful activity and I am grateful to everybody who helped to make it happen: https://blogs.ubc.ca/mmilner/2023/03/07/45-ubc-physics-olympics/
Having an opportunity to mentor graduate students who do research in STEM education. I am grateful to all of you for giving me a chance to learn with you.
Mentoring students at the University Transition School. This is a group of young, talented and curious students. Engaging with them in STEM was a challenge and an opportunity for me.
Participation in the STEM 2022 Conference at the University of Sydney together with my graduate students was a great opportunity to learn from colleagues from around the world. I am grateful for that.

Visiting many BC schools with STEM outreach activities was definitely a highlight.

Volunteering for the Scientists and Innovators in the Schools organization (SIS) has brought us lots of joy in the last 15 years! This organization makes a huge difference for thousands of students all across BC. I especially would like to thank Mr. Bill Deagle from Carihi Secondary School in Campbell River and Mrs. Angie McTague from LV Rogers Secondary School in Nelson BC for inviting us. This was a collaboration with my husband, Dr. Valery Milner (whose experiment on breaking a wine glass with sound you can see below). We both enjoyed it immensely and would like to thank students and teachers for welcoming us. All these trips would have never happened if not for Christen Olsen from SIS and her team. The SIS is hosted by Science World and what they do to support STEM outreach is very inspiring.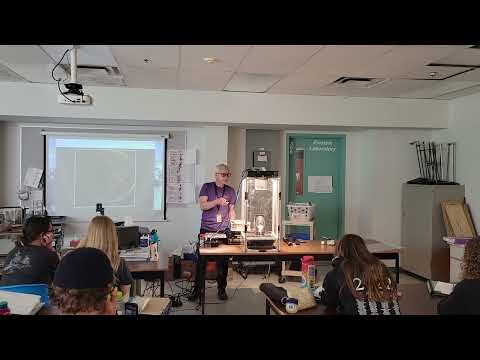 I am grateful for all these opportunities and I would like to wish you all a great summer.