Street ethnography is an emerging research approach that focuses on public exterior spaces… sidewalks, parks, neighbourhood spaces. Both the ethnographer and the ethnographic participants are moving through these public spaces and so are engaged with each other in informal ways as both use these spaces in a fairly equal way. The tools for street ethnographers include neighbourhood walks, going along with ethnographic participants, and photography.
A good illustration of street ethnography is, Urban Fieldnotes, a mash-up of research and street style blogging. Blogger Brent Luvaas, a visual and cultural anthropologist & Assistant Professor of Anthropology at Drexel University, describes Urban Fieldnotes this way…
Urban Fieldnotes is a street style blog documenting fashion, style, and dress on the streets of Philadelphia and beyond. It is also a blog about street style blogging, an experiment in auto-ethnographic research and open-source fieldwork that is part of an ongoing project entitled "Street Style 2.0: New Media and the New Politics of Fashion."
His research project is connected to the rise of street style fashion blogging as a form of amateur ethnography that challenges prevailing modes of expertise in the fashion world. Just to make sure you know this is research, he also says…
Your comments and suggestions are welcome, but please note that any comments posted to this blog may be used in future presentations and publications, both print and digital, by Brent Luvaas.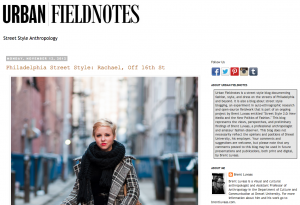 Street style blogs are plentiful, but perhaps one of the mostly widely read is The Sartorialist, but Luvaas provides a long list of street style blogs from around the globe. Others he might have included are Advanced Style, which focuses specifically on 'older folks' and Bill Cunningham's work for the NY Times. And there are an increasing number of models come street style bloggers, like Hanneli Mustaparta and Christine Reehorst.
There isn't much written about street ethnography, although R. Weppner's 1977 Street ethnography: Selected studies of crime and drug use in natural settings is a good resource, if you can get your hands on it.