As being an important material to produce the smart devices such as smartphones, tablets and other IT products, the demand for the rare earth has been increasing tremendously. Also, this means a BIG business.
Lynas is one of the biggest rare earth mining companies in the world. Recently, Lynas has invested 2.5 billion ringgit ($793 million) to build up a plant in Kuantan, Malaysia. This refinery is said to avoid the China's world production dominance and could act as a catalyst to speed up the development of the IT sector worldwide. Moreover, it creates 330 highly skilled jobs and a minimum profit of $1.7 billion per year, according to Lynas. That's equivalent to about 1 percent of Malaysia's GDP. As to welcome the corporate, Malaysia's Prime Minister Najib had granted Lynas a 12-year tax break (What the Malaysians gain from the giant project?).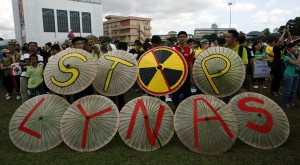 However, Lynas has been facing a lot of criticisms and debates from the activists and politicians in Malaysia as besides the astronomical profits, the refining of the rare earth produces radioactive heavy metals like mercury which will jeopardize the environment in Kuantan. Hence, "Save Malaysia, Stop Lynas" protest has been set up to put pressure on Malaysian government in order to terminate the temporary operating license for Lynas.
"Our concerns are the inhalation of alpha particles associated with the dust," the WA Greens MP Robin Chapple said.
Besides, the activists also seek for judicial block on the license.
http://www.ntn.org.au/wp/wp-content/uploads/2012/04/Lynas-EIA-Assessment-Report-NTN-April-13-final.pdf
http://www.nytimes.com/2012/09/07/business/global/protests-promised-over-license-for-malaysia-rare-earth-plant.html