The "Canada Goose Phenomenon"
Raised in B.C. Canada, I had no idea what the Canada Goose brand was. After making a few trips out to Toronto, I was exposed to the brand for what I thought was the first time. Walking down Yonge Street near Dundas Square, I was intrigued to see many pedestrians wearing thick parkas and jackets with the fluffy fur hood and a circular logo stitched into the arm. The experience literally looked like this (caution: profanity in video):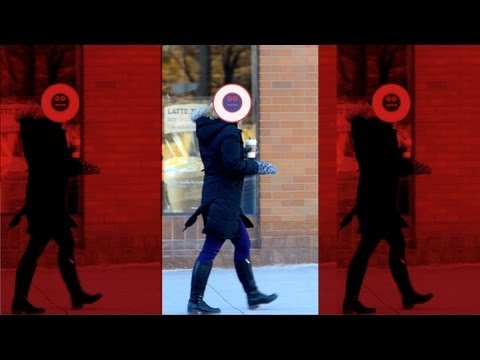 I needed to know what brand it was. At one point, I was so curious that I snuck up beside a stranger to look at what the logo read. Here is what I saw:
Canada Goose is a Canadian company founded in 1957 that manufactures outdoor clothing. They started fulfilling custom orders for jobs in frigid conditions that required high quality and warmth retention. On top of maintaining consistency in being the best of style and performance, the jackets started out being worn by Arctic explorers and high-altitude mountain climbers. The trend caught on after celebrities were spotted wearing these coats in movies and on the streets. Their signature coats today nestle in a sweet spot between fashion, luxury, and utility, using coyote fur for hood trims and white duck down filling. Since 2005, Canada Goose claims revenues of more than $225 million in coats and accessories across Canada, and that doesn't include the millions of lost revenue from mass counterfeiting. The craziest part of this phenomenon are that these jackets sell anywhere from $350 to $885.
Looking at this phenomenon from a marketer's point of view, there are really a few different consumer behaviour concepts at play here:
1) PHYSICAL AND PERCEPTUAL POSITIONING 
The big blow-up in fashion trends started after being featured in multiple movies like The Day After Tomorrow, Eight Below, National Treasure, Good Luck Chuck and Whiteout where actors in extremely cold and harsh environments were seen wearing these high-performance parkas. Since then, many celebrities have been spotted wearing these jackets too. Eventually, students in Toronto caught on to the trend and began sporting their very expensive coats to school. Using a combination of physical positioning with its insulating layers, hand-warming pockets, and warm fur hood, and perceptual positioning techniques aforementioned, these jackets have become a fashion staple for Torontonians, much like Uggs, Hunter rainboots, and black tights are to Vancouverites.
2) SOCIAL PROOF AND MERE EXPOSURE
I must admit, I found myself a victim. At first, I found the jackets pretty typical; however, after seeing everyone all the time on the streets and in magazines with these jackets, I ended up wanting one myself. Many people would agree, and have worked countless hours waiting tables to pay for these jackets. I looked at what other people were wearing, was exposed to a lot of it, and eventually started perceiving an increase in the validity of the brand as more and more people support the brand.
3) SOCIAL MARKETING AND MISATTRIBUTION OF AROUSAL
Canada Goose partnered with Polar Bears International to create an exclusive line which donates a percentage of proceeds to save the world's endangered polar bears, a representative symbol for Canada. A lot of supporters of the Canada Goose brand are happy and boast that by buying Canada Goose, they have helped a polar bear in need and feel good about it. While the charity is a good cause, Canada Goose does unfortunately use animal fur in some of its parka production. The social marketing technique is a great selling point, but people have perhaps wrongly projected positive feelings onto the brand.
Canada Goose's success really branches out from creating an amazing brand, telling an authentic story, and using ingenious product placement. The funny thing is that Dani Reiss, the CEO of Canada Goose, does not claim to be a "brand guy" or businessman. As the leader, he really made some great decisions, first and foremost in sewing on "Made in Canada" tags that add to the jacket's premium pricing and believable brand.