On Today's Menu:
California Cobb Salad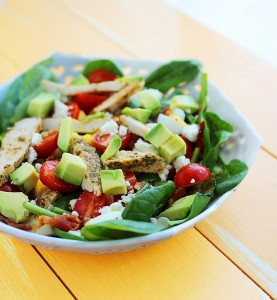 The first recipe is a Cobb Salad which usually have for lunch after class, it is really light but will keep you going until dinner time! I also like to add avocados and substitute the chicken with some beef for added protein!
YIELD: Makes 4 servings
INGREDIENTS:
4 slices low-sodium bacon
3 large eggs
10 ounces baby spinach, rinsed and pat dry
2 Tbsp. extra-virgin olive oil
1 1/2 Tbsp. lemon juice
2 cups cooked chicken, cut into bite-sized pieces
1 cup chopped plum tomatoes or halved grape tomatoes
2 avocados, chopped into bite-sized pieces
1/3 cup crumbled feta or blue cheese
Salt and pepper, to taste
DIRECTIONS:
In a large skillet over medium-high heat, fry bacon until crisp. Remove to a paper towel lined plate to soak up excess grease. Roughly chop into small pieces and set aside.
In a small pot, add eggs and cover with cold water. Bring to a rolling boil over high heat. Reduce heat to medium-low and cook 10-12 minutes. Drain, rinse eggs with cold water, carefully remove shells, and chop into small pieces. Set aside.
Just before serving, toss spinach with olive oil and lemon juice in a large bowl. Add bacon, eggs, chicken, tomatoes, avocado, and crumbled cheese. Season lightly with salt and pepper. Serve immediately.
Enjoy and watch for a new recipe coming next week!
By Chloe Lam
Residence Advisor