On Today's Menu:
Prosciutto, Arugula & Tomato Naan Pizza

The last recipe that I would like to share is one of my favourite dinner meals: prosciutto, arurula and tomato naan pizza! You can usually buy naan bread at the grocery store which is much faster than making your own dough! Try for whole wheat naan bread if you want to be healthier! Other ingredients to spice things up: smoked salmon, pesto sauce instead of tomato sauce, or mini shrimp!
YIELD: Makes 2 pizzas // 8 slices
INGREDIENTS: 
1 (8.8 oz.) package Stonefire Naan (2 pieces)
2 Tablespoons olive oil
1 cup shredded mozzarella
10 thin slicesprosciutto, torn into smaller pieces
1 cup grape or cherry tomatoes, halved
1 cup fresh arugula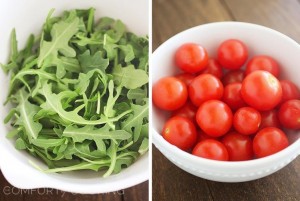 DIRECTIONS:
Preheat oven to 400 degrees F.
Place naan on a large greased baking sheet and brush tops with olive oil (1 Tbsp. each). Sprinkle each with 1/4 cup mozzarella. Top with prosciutto, tomatoes and remaining cheese.
Bake for 10 minutes, or until crust is golden and cheese is melted. Sprinkle fresh arugula over top of each pizza. Slice and serve.
Enjoy!