Posted on behalf of Chiara Mason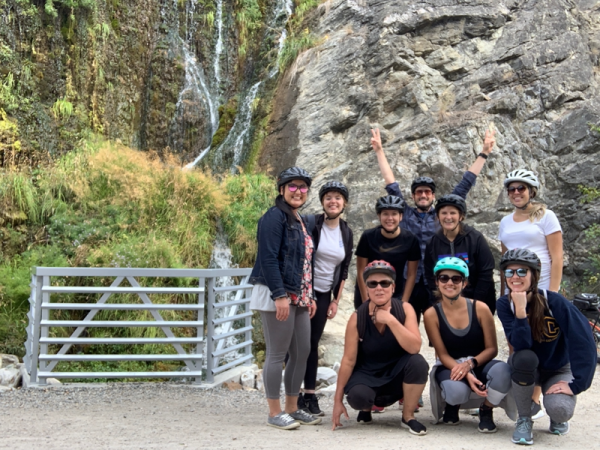 Our SRA team recently had our summer retreat, spending time to reconnect as a team and prepare for our upcoming fall season. Presentation practices and run throughs, quizzes about UBC faculties and programs, a wellbeing session, and an admissions crash course were all intentionally designed to prep us for the upcoming season. It is important for all members of our team to be familiar with what we offer at UBC, how we make admissions decisions, and develop our presentation styles as we head into our busy season – and of course, it's also necessary to make time for rest and wellbeing, which we incorporated into our retreat.
During our retreat, we also had a number of excellent sessions to further build our Equity, Diversity, and Inclusion (EDI) toolkit. One highlight was a session run by Host Consulting with a focus on decolonization. Our exceptional facilitators guided us through decolonizing work and how to focus on creating authentic land acknowledgments and moving beyond acknowledgements into action. Another highlight was hearing from the directors of the newly-launched Beyond Tomorrow Scholars Program at UBC, and how our work can further the recruitment and success of Black Canadian students. We also heard from the UBC Black Caucus, who spoke about their work in connecting and supporting the student body, faculty, and staff on campus. In addition, the Onyx Initiative joined us to discuss their initiatives around professional and career support for black students across Canada, and some recent partnerships they have developed with UBC and other post-secondary institutions across the country. Additionally, we had an incredible workshop hosted by Bakau Consulting with a focus on strategies for LGBTQIA2S inclusion. Our team was very excited about the focus of this workshop, and we truly enjoyed the discussions and learning that took place.
Finally, we couldn't let the retreat pass us by without taking the time to reconnect with one another in a safe way. We had the chance to meet up in a socially-distanced outdoor manner for lunch in each respective city. Our Okanagan team also had the chance to rent E-bikes and do some exploring around Wood Lake, which was a great experience! We are all crossing our fingers that our next retreat can be held in person. Until then, zoom meetings and a socially distanced lunch will have to do!