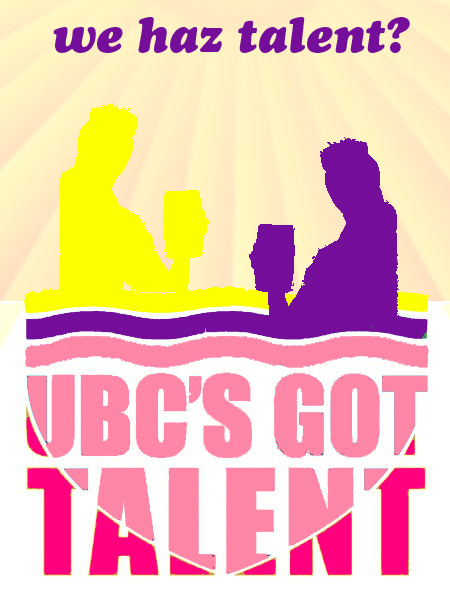 The countdown is on! Just over two months until UBC's Got Talent, where we're going to see some amazing performers take the Chan Centre stage. Excited? I know I sure am!
Bullshit. C'mon. Admit it. You know this event is going to be super cheesy. Seeing our President BFF's sing a duet will no doubt be enthralling; however, we need to spice it up a little. Let's add in some crazy stuff. Snake charming… contorsionists… whatever. Let's show what UBC really has to offer.The ladies over at 11eleven have a bit more analysis on the event, if you don't want to simply hear about all the crazy stuff I want to see that you'd probably only think up near the end of Gallery Tuesday while tuning out the guys singing Backstreet Boys. Again.
On board? Great. Here's what I want to see happen:
AMS AVP Academic Sean Cregten shear his ideal Land Use Plan into the side of sheep.
Justin Yang either rapping on stage, or doing a spoken word piece. SUS. AUS. AMS. Senate. This guy has done it all. He has to know some secrets… and what better way to expose them through a freestyle rap? Further challenge to Justin… rap the lyrics in the caption, post a video, and… I don't know. We'll do something special for you.