Hi there,
My name is Jessica Lussier, and I am EDST's first blog editor.
I joined the EDST community back in 2018 when I began my PhD. Since the pandemic began, I've missed being involved in the EDST community. As the blog editor I envision the blog as a forum where EDST students and faculty can publicly share their research, provoke dialogue on topics in education, discuss student issues, and engage with others within the UBC community.
In the coming weeks, in conjunction with EDST GAA Itamar Manoff, the blog will host a writing series focused on different types of blog content, translating academic writing into public facing work, and other themes. Keep your eyes peeled for that!
In my own work I research and write about issues around climate change, environmental education, and living ethically within the ecosystems of which humans are a part. Over the past few years, I've acted as social media coordinator and copyeditor for several organizations, and I believe these roles will serve me well as EDST's inaugural blog editor. I look forward to working with authors, enhancing the outreach of the blog, and making connections within and beyond the university.
Just like any journal or publisher, however, I cannot do this work alone! Which is why I am releasing the below call for a blog Editorial Board. The call is open to all current EDST students, and applications are due by Friday December 9th. Please see below for further details and click here to complete the application form.
Questions about the editorial board should be directed to: edstblog.editor@ubc.ca
---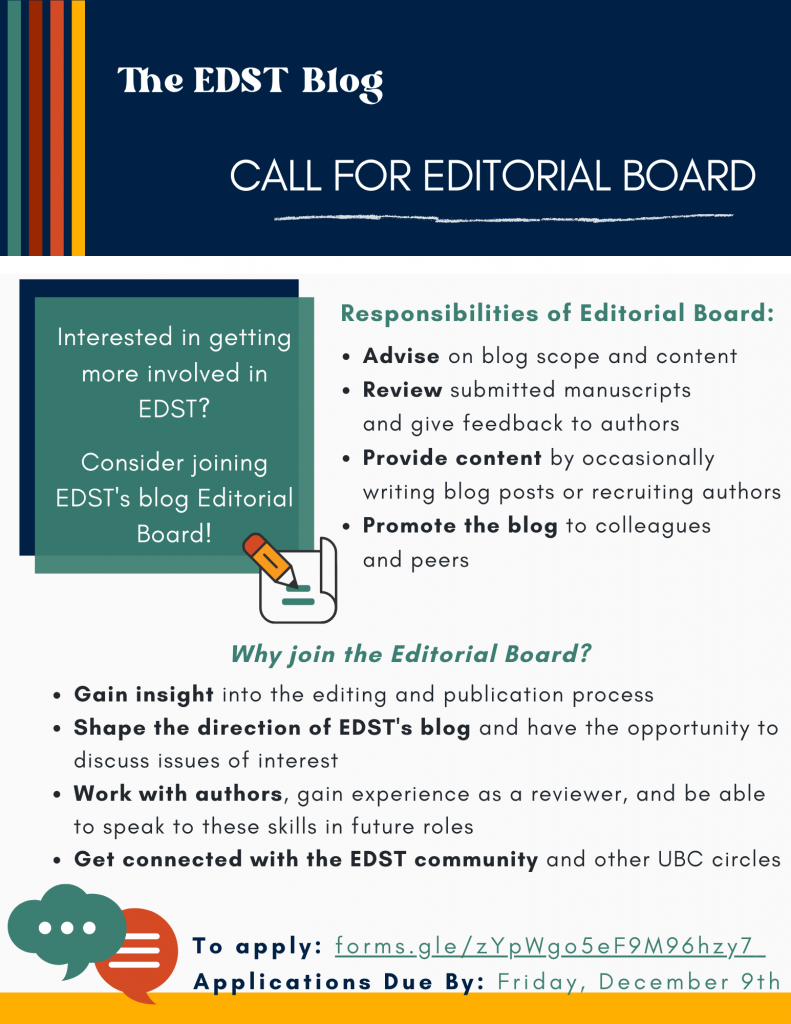 ---
Keep an eye out for news about the blog, calls for content, and other news in upcoming GAA newsletters and department announcements!
Cheers,
Jessica Lussier
EDST Blog Editor