Posted on behalf of Erin Shannon
So you are saying, You play the accordion, you paint and you work for Enrolment Services? – HELLO Triple Threat!
ES Okanagan Wellness Day on August 15 with the goal of creating opportunities for staff to connect with people they don't normally work with.
We headed off campus to downtown Kelowna and enjoyed a roof top lunch at the Okanagan Innovation Center with icebreakers and trivia then dropped in to the Kelowna Art Gallery for a scavenger hunt and painting.
First things first, we had to learn each other's names.  The planning committee made a rhyme (or as close to a rhyme as some names allow) for each person's name and created their name tag.  Kelli on the telly, Distillery Hilary, Erin the Baron, Excel Michelle, Fancy Nancy to share a few.
The sun was hot that day and the umbrella coverage limited leading to creative sun protection.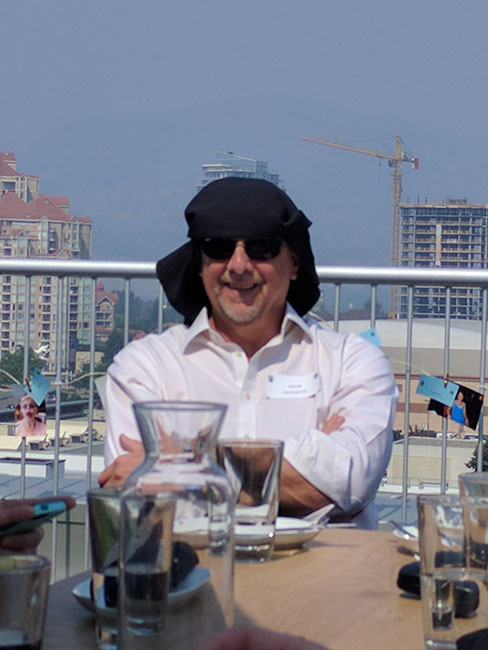 While we ate lunch, we had an icebreaker for people to share a fun, interesting, little known fact about themselves. Not in our wildest dreams could we have known that ES Okanagan is a hot bed of accordion playing talent. Anthony Dodds best described this discovery "OH YOU HAVE TO BE KIDDING ME!" Consider the ice broken.
After lunch, we did a pub style team trivia with the winning team earning the newly acquired and now highly coveted "YOU DID SOMETHING" ES trophy.
Another congratulation to Team Angel, Andrea, Blake and Terra.
The team that tried to win (Halyna, Jenny, Nancy, Jackie and Kelli) was awarded the not so shiny Rubber Chicken.
We packed up our boxes of to go donuts, because a wellness day isn't well without 300 mini donuts, and headed to the art gallery for a scavenger hunt and painting.
For those that have met us, you may have picked up on some of our slight fun, competitive spirit. Teams were formed and the Art Gallery Scavenger Hunt was underway.
Don't be fooled, Fred and Hilary had a blast!
Congratulations to Jennifer, Diane, Nancy, Andrea and Terri for the fastest completion of the scavenger hunt.
On to painting! We found our inspirations (muses in some cases), sketched and painted to close out the afternoon. There was a lot of laughter, shock and awe and talents and attempted talent, and general wellness merriment. Even the Art Gallery said we were hilarious and they would gladly have us back.

At the end of it all, we created an ES Art Gallery back at the office for secret ballot voting of the favourites.
Michelle Davis earned the 1st place trophy and Angel Mamaril earned the 2nd place Chicken.