Written on behalf of Natalie, Joel, Mike, Jin, Leah, Katja, Stephanie and Coby, your ES out-of-office wellness afternoon planning committee. With special thanks to the Healthy Workplace Initiative for partial funding of this event, as well as Kate Ross and the unit directors for supporting their staff to attend.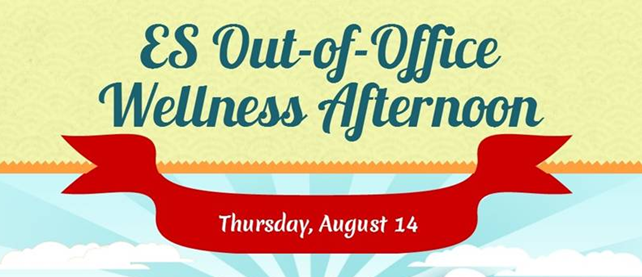 A message from Kate:
Please join me and your fellow ES colleagues for the first annual ES out-of-office wellness afternoon on August 14 from 12:00 to 4:00. This is an opportunity for all of us to take a step back from the great work we do all year long and spend some time getting to know each other outside of Brock Hall and Ike.
Events like this make our team stronger and happier, and they support a healthy work-life balance. I encourage all of you to take part in some of the scheduled activities, and make sure to relax and enjoy the day with your colleagues. The Planning Committee has been hard a work creating what I believe will be an enjoyable fun filled afternoon with something for everyone!
EVENT DETAILS
When: Thursday, August 14 from noon to 4:00 pm
Where: Fairview Commons (Main Mall and Stores Road, next to the Earth Science building)
Agenda
| | |
| --- | --- |
| Noon to 12:45 | Lunch |
| 12:45 to 1:00 | Event kick-off and welcome from Kate Ross |
|   1:00 to 1:45 | Session #1 |
|   2:00 to 2:45 | Session #2 |
|   3:00 to 3:45 | Session #3 |
|   3:30 to 4:30 | A surprise! |
Action items:
Register for the sessions.
Don't miss out! Some sessions have limited capacity.
Please register for ONE event per session
Some sessions have limited capacity, so please commit to attending the sessions you register for
If you change your mind, you can switch sessions up to the morning of the event (August 14)
Make your sandwich selection by Sunday, August 10.
We will be serving boxed lunches from The Mix bakery, which include your choice of sandwich, a fresh baked cookie and a piece of fruit. Please visit the link below and make your sandwich selection. Water and juice will also be provided.
https://secure.students.ubc.ca/facultystaff/invite.cfm?page=sandwiches
Session options:
Please keep these descriptions handy to help you register for sessions:
Outdoor yoga:
Presented by staff from UBC rec.
Offered in all three session.
Yoga mats will be supplied.
Wear comfy clothes.
Guided Meditation
Presented by Andrea Klein
www.andreakleinyoga.com.
Andrea has designed three meditation sessions:
Session #1 – Meditation for inner peace and calm: Learn a meditation and breathing technique to lower your stress levels, and to bring balance back in your heart rate and your mind.  Manage stress with this technique.
Session #2 – Meditation for health: Learn a meditation for your physical and emotional health. This will bring healing and balance to your body and mind.
Session #3 – Meditation for manifesting what you want: Learn a meditation for manifesting a desire, intention or goal for your life. This will bring more clarity to your goal or desire.
Travel rollers – Introduction to Self Myofascial Release
Presented by Arysta Bogner
www.travelroller.com
Focus on detailed precise Body Rolling / Self Myofascial release techniques for improving flexibility, posture, mobility and pain relief.  Learn about fascial layers "sheer + compression + torque" techniques while exploring fascial lines.
Eating Well presentation
This session is designed to motivate participants to improve their eating habits and optimize their health, energy, and performance; session will also focus on prevention and management of stress through balanced meals /snacks and tips on specific foods that induce or reduce stress.
Nitobe Memorial Garden walking tour
Join your colleagues for a few moments of serenity in the traditional Japanese Garden. Visit http://www.botanicalgarden.ubc.ca/nitobe for more information.
Beaty Biodivesity Museum
Check out the giant whale and explore the over 500 natural history exhibits including an extensive collection of fossils, shells, insects, reptiles and more from around the world. Visit http://www.beatymuseum.ubc.ca/ for more details.
Free play
Your choice! Play a game of Bocce, throw a football, read a book or visit with your colleagues. This is your time to relax and enjoy the afternoon. The ES sports equipment will be on site for you to use at your leisure.
Photobooth!
From 1-4 we will have a photobooth onsite. Take pictures with your ES colleagues. Photos are printed on the spot and will be a great memento from the event. Props will be available to make the photos even more memorable.
See you on the 14th!