The end of November marks the end of our 2021 Brock Hall United Way Campaign. While we've wrapped up our official Brock Hall campaign, donations still count towards our funds raised. Make a one-time donation, or commit to payroll donations at unitedway.ubc.ca/howtogive.
Highlights of this year's campaign:
54 payroll donors
14 one-time donors
Funds raised thorough the Brock Hall campaign so far – $19721
Wine Survivor
In addition to raising funds through payroll donations, the Brock Hall United Way Committee hosted Brock Hall Wine Survivor. Twenty participants battled it out over three weeks to become one of the last three Survivors to avoid elimination. Our amazing UBC United Way Campaign Associate, Alex Kinkead performed an uncanny likeness of Jeff Probst, hosting and recording all of our elimination challenges and donor prize draws.
Winners!
It was a hard fought battle, but in the end, it paid off to have immunity passes (take note for next year!). The final three survivors were: Ashley Elchuk (final survivor), Coby Thurmeier (second to last survivor) and Jessica Iverson (third to last survivor)! The three winners split 19 bottles of wine and a six pack of beer, high-fived, and left Brock Hall  that day emanating with power, glory and triumph.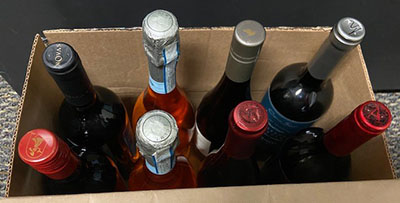 Payroll and one-time donors working in Brock Hall were entered to win prizes during November. Here's the list of ES staff members who won:
Julia Shen
Camille Jonson
Katja Clark
Elham Karimi
Cheryl Tyler
Winnie Ng
Effy Katahan
Drew Senay
Kate Ross
Heather Mitchell
Debbie Lin
Odessa Corletto
Nikki Reine
Colleen Mooney
Cassie Dominic
Prizes!
We wouldn't have been able to donate prizes without the generosity of many companies and individuals.
Thank  you to our prize donors:
Debbie Lin
UBC West Coast Suites
UBC Athletics
Evo
Staples
Chambar
The Ballet Lounge
Anna's Cake House
Peter from Brooks Corning
Thank you to the Wine Survivor participants who donated $370 in gift cards for donor prizes:
Pia Gormley
Velia Altamira (CSI&C)
Paolo Caguiat (CSI&C)
Michael Judd
Maria Jose Beck Buttedahl (ISI)
Kim Sicoli
Jessica Iverson
Aaron Anderson (ISI)
Teresa Tsang
Ashley Elchuk
Coby Thurmeier
And finally,  a huge THANK YOU goes out to all of the members of the Brock Hall United Way Campaign for planning and promoting Wine Survivor, UBC United Way events, and the payroll donation program!
Velia Altamira Vazquez

(CSI&C)

Maria Beck Buttedahl

(ISI)

Paolo Caguiat

(CSI&C)

Ashley Elchuk

 

Pia Gormley

 

Cicy Guimond

 

Winnie Ng

 

Coby Thurmeier