Hi all – for posting please. thxR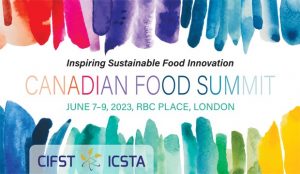 Rebecca Lee
Dean's Office Coordinator | Faculty of Land and Food Systems
The University of British Columbia | Vancouver Campus | Musqueam Traditional Territory
248-2357 Main Mall | Vancouver BC | V6T 1Z4 Canada
Phone 604.822.1219 | Fax 604.822.6394
Dean.landfood@ubc.ca | @ubcLFS
www.landfood.ubc.ca | www.facebook.com/ubcLFS
From: Canadian Institute of Food Science and Technology <constance@www-cifst.ccsend.com> On Behalf Of Canadian Institute of Food Science and Technology
Sent: April 14, 2023 7:30 AM
To: dean.landfood@ubc.ca
Subject: Marvin Tung Student Case Competition
Call for Poster Submissions: Extended Deadline
Marvin Tung Student Case Competition
CIFST will hold its second Marvin Tung Student Case Competition on Wednesday, June 7th, as part of the Canadian Food Summit in London, Ontario. The student competition will allow our emerging professionals to showcase their creativity, knowledge and skills and learn from each other through the analysis of a food sector case study. The primary objective of the case competition is to foster innovative thinking about a real-world problem while allowing students to hone their skills and network with their peers.

The winning team gets a cash prize of $1500!

Please complete your submission(s) by the deadline: Friday, April 28th, 2023 – 5:00 p.m. Eastern Daylight Time (EDT)
Thank you to our Marvin Tung Student Case Competition Sponsor
Call for Poster Submissions: Extended Deadline
We have extended the call for poster presentation proposals for CIFST's Annual Food Summit at RBC Place in London, ON, from June 7 to 9, 2023. The submissions are open to members of CIFST in good standing. We are seeking presentations that cover the broad spectrum of food science and technology. Poster presentation submissions from academia, government and industry will be considered with the aim to create balance and interest for all attendees.
Our theme this year is "Inspiring Sustainable Food Innovation"
Food themes being considered include:
• Food Safety
• Genomics
• Food Science Education and Technology Transfer
• Cereals and Pulses
• Non-invasive Testing Methods
• Interfaces in Foods
• Sustainable Food Systems
• Processing
• Functional Foods and Nutraceuticals
• Sensory Science
• Nutrition
• Food Chemistry
Please note, that all abstracts must reflect original data (not previously published). If you submitted a poster in the previous round before the February 28, 2023 deadline, you do not need to submit it again. You will be contacted soon with the next steps.
Please complete your submission(s) by the deadline: Monday, May 15, 2023 – 5:00 p.m. Eastern Daylight Time (EDT)
Full instructions are in the submission portal. If you have any questions on the entry process, please contact the organizers by email to cifst@cifst.ca.
Early Bird Rates Extended until April 28th
CIFST's annual conference will take place at the RBC Place, London, Ontario from June 7 to 9, 2023. Early bird registrations end on April 28th. REGISTER NOW to enjoy savings on your registration fees.
Thank You To Our Conference Sponsors
Marvin Tung Student Case Competition Sponsor
CIFST Education Circle of Excellence Sponsors
Canadian Institute of Food Science and Technology
cifst@cifst.ca | 1-844-755-6679
3390 South Service Road, Suite 305, Burlington ON, L7N 3J5
See what's happening on our social sites
‌
‌
‌
‌
‌
CIFST c/o Essentient Association Management | 3390 South Service Road, Suite 305, Burlington, ON L7N 3J5 Canada