Tansi (Hello),
We are really excited to invite programs, faculty, staff and students to participate in the upcoming Indigenous Graduate Initiatives Showcase, a pre-symposium event to the 20th Annual Indigenous Graduate Student Symposium on March 17, 2023.
With growing resources on campus for Indigenous graduate students, it will be an opportunity for programs, faculty, staff and students to showcase any Indigenous graduate initiatives that you are working on, from Indigenous focused programs, courses, support staff, mentorship programs, student groups, and more.
The showcase will be held March 17, 2023 at the First Nations House of Learning Sty-Wet-Tan Great Hall (UBC Vancouver) from 9am to 12pm with set up happening between 8:30am and 9am.
If you would like to register and set up an interactive information table, or have questions on how you can participate, please email Tarene Thomas (tarene.thomas@ubc.ca) by March 10, 2023 at 4pm
Please do feel free to join us at the event to network, build community and learn about other initiatives happening across campus. The event is free to attend and is open to faculty, staff, undergraduate and graduate students to attend.
Come celebrate Indigenous excellence with us!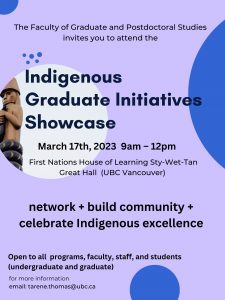 Tarene Thomas (Cree, Gitxsan, Tahltan, Haisla), BA, MFA |
Coordinator, Indigenous Graduate Initiatives, Graduate and Postdoctoral Studies
tarene.thomas@ubc.ca | 604-822-6788 | https://www.grad.ubc.ca/prospective-students/indigenous-students
Rebecca Jules (Secwepemc)  MPP, BA (She, Her, Hers)
Specialist, Indigenous Graduate Initiatives, Graduate and Postdoctoral Studies
The University of British Columbia | Vancouver Campus | Musqueam Traditional Territory
170-6371 Crescent Road | Vancouver BC | V6T 1Z2 Canada
Email: rebecca.jules@ubc.ca | 604-827-0829 | https://www.grad.ubc.ca/prospective-students/indigenous-students