The Department of Mechanical Engineering houses several sub-specializations, and the difference between them isn't always clear when choosing a program in the first year. Around the end of 2022, we had a student experiences panel with upper-year MECH students from each specialization to answer questions and try to demystify the program. Here are a few things they to say!
But before we get started here are our panellists:
Janet Sun – Mechatronics
Ahijit Banerjee – Thermofluids
Phoebe Cheung – Biomedical
Why did you choose MECH?
Janet: I have always been very interested in robotics and how things move the way that they do, I am now furthering my studies with a Master's in Kinematically Redundant Parallel Robots which is very exciting. My choice stemmed from pure interest and curiosity, wanting to know the why and how behind mechanical movements in addition to what I could do to control those motions. Hence, I have specialized in Mechatronics which was also a factor as to why I chose MECH.
Ahijit: I come from an ECE and CS-dominated background and I was naturally inclined towards it from a young age. But during my first year here, I loved the hands-on projects we had – building the cardboard chair and seeing it support 17 sandbags or the metal claw trying its best to pieces of pasta from the floor. I hadn't had much exposure to hands-on projects prior to coming to UBC, but I knew I wanted much more and that's why I choose MECH.
Phoebe: Back in the first year, I was introduced to the concept of biomechanics, and the synergy between mechanical and biomedical engineering quickly became something I was interested in learning more about. Through the First Year Program Fair and the Mechanical Engineering First Year Networking Event, I had the opportunity to learn more about MECH and talk to current students about their experiences. As MECH offers a biomedical specialization, I discovered that a MECH degree would be the best choice for where my interests lie. I wanted a strong foundation in a core engineering discipline while still being able to gain experience in the biomedical industry. My goal was to build my toolbox of skills and knowledge through my degree to be able to design and develop medical devices in my future career.
Opportunities in the program
Janet: There are so many various way to be involved. Either through design team, student council, work learn positions in the mech offices, volunteering in labs or joining various clubs on campus. There are infinite ways of enriching your degree. If you would like to gain technical experience, joining a design team would be the best way to apply what you learn in the classroom to a tangible project and also allow you to polish those team working skills. During my time on both SUBC and Orbit, I have really enjoyed watching our design concept come to life with the combined efforts of the entire team. If you would like to develop professionally and or practice your interpersonal skills while taking on a leadership role, I highly encourage you to apply as a work learn student or join the mechanical engineering student council. I have been part of the council since my second year, having taken on roles such as 2nd Year Rep, Academic Rep, Secretary, and my two terms as President. These roles have taught me so much and I enjoyed being able to work closely with an amazing supportive team to ensure that all mechanical engineering students have access to a wide array of social, academic and professional development opportunities. I was also fortunate to be able to take on a few work learn positions during my undergraduate career and it was a really nice way of improving my soft skills such as technical communications. Being a work learn student gave me so many more opportunities to interact with staff, faculty and also incoming students. From my various roles in the department, I was able to interact with profs and I was able to volunteer in the CARIS lab working on a really cool controls project leading me to my master's degree. There are so many opportunities that may creep up on you without you even knowing.
Ahijit: MECH has several opportunities for students to get involved outside of classes, the most common being design teams. Working on larger projects with technical and non-technical folks with different backgrounds is some of my favourite and most exciting moments in school. They helped me develop my technical and communication skills, and it is a fun way to meet new people.
The department is also very supportive of undergraduate research. MECH has the CREATE-U program exclusively for MECH students interested in research, I had initially asked my professor if they had any opportunities in their lab for an undergrad student, and I was able to complete a co-op term at their lab through this program. The department also has paid opportunities like teaching assistantships and work-learns. I found the time I spend TA'ing or helping out with work learn tasks to be a refreshing change from the technical projects and a way to give back to the community.
Phoebe: In addition to coursework, I had a multitude of opportunities to gain experience outside of the classroom. One of the highlights of my degree would be my time on UBC AeroDesign. It was my first time working on a large-scale team project, and it was very rewarding to watch our airplane take off for the very first time! In addition to the technical experience, I've also gained experience with project management during my time as Team Captain. Navigating the team through the pandemic and the transition back to in-person work was a unique challenge, and it has undoubtedly taught me important leadership and communication skills.
The MECH Community
Janet: One of my passions is to build community and as such I have taken up roles such as Mech Prez and Residence Advisor. I really enjoy hosting events and bringing people together through common interests and providing opportunities for skill development. The mechanical engineering community is very diverse, with students from vastly different backgrounds but we all come together under CEME or Rusty working on our projects, labs or course work knowing that our classmates will always lend a hand to help when they can.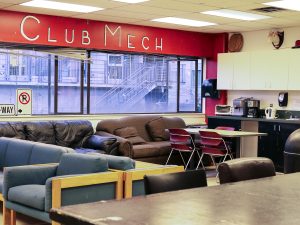 Ahijit: The MECH community is a tightly knit one. Starting from the days of MECH 2, we see each other all the time from classes during the week and at design teams over the weekends. But it's the days when things don't go according to plan or it's the day before the competition and we're still at Home Depot picking up parts, is when I made my closest friends whom I knew I could count on. Alongside seeing everyone for school nearly every day, club MECH hosts events frequently that are an amazing opportunity to detox and relax.
Phoebe: Although 2nd year ("MECH2") is as challenging as every upper-year MECH student claims, reflecting back on it now, it has certainly helped me build a strong academic foundation and become a better future engineer. The variety of courses and labs allowed me to get a taste of what mechanical engineering has to offer for the rest of my undergraduate degree. Because of its rigour, MECH2 has also allowed me to learn how to better manage my time and prioritize my tasks. The overall MECH community is also very welcoming, which allowed me to build a strong support system of peers and professors.
Additional Comments
Janet: Being involved in not only the mechanical engineering community but also the greater engineering community to show our mech pride has been a highlight of my undergraduate career. From winning E-week this year with all the hard work from very dedicated and committed mech community to competing in the ball model in my second year with a small group of friends. We went from design conception to sourcing materials and building the overall contraption. I was finally able to realize my dream of building a claw machine. I am super thankful for my friends joining my team and their dedication to the project. There is nothing quite like building something from scratch, getting your fingers superglued onto the project and getting a burn from the activator. This experience will forever be engrained in my memory as a very stressful but thrilling time.