For my second co-op position, I was offered a job at YVR. Now, I'm not one of those people who knows every type of plane, but come on, who doesn't think planes are cool?
My role was in the Engineering Services department, which mainly deals with building and alteration permits. The department often gets involved with little side projects as well, which always kept things interesting! My primary task was reviewing HVAC and plumbing drawings, as well as doing site visits to ensure the construction was consistent with submitted drawings. Before working at YVR, I had zero experience with HVAC and plumbing. Because of this, I was a bit nervous to start. However, I quickly realized that the point of co-op is to learn, you're not expected to be a professional in your field.
At YVR, I really appreciated that the staff wanted you to get as much out of your experience as possible. Even though I was mostly reviewing drawings, almost every week I would get a chance to be in the terminal building, airside, or in other cool places. Some of the highlights include:
A tour of the baggage system
Sitting airside and watching planes take off
Many visits to the secure side of the airport
Getting a tour of the Air Canada hangar (which included lots of pictures with the planes)
Going on a big construction site for a pump station replacement
A tour of the Ground Run-Up Enclosure
I would love to say that through this co-op I discovered my passion for HVAC and plumbing, and ever since have been excited to learn more, but I'd be lying. I've since realized that my interests are more geared towards robotics and applications in the medical field, which is quite different than the work I was doing at the airport. So am I sad about spending my four months learning about systems that are not directly relevant to my future goals? No way! Any co-op and work experience you get is worth it, even if you end up hating that industry. Maybe I would've spent my entire degree thinking I wanted to work with HVAC systems, but that four month co-op saved me time by telling me no, HVAC is not my calling. No co-op term is a waste of time. In addition, I gained many transferable skills that are very beneficial when applying to future jobs. Scanning these plumbing drawings for small flaws requires being very detail oriented, and having to pick up so many new skills and programs in such a short time forced me to become a fast learner.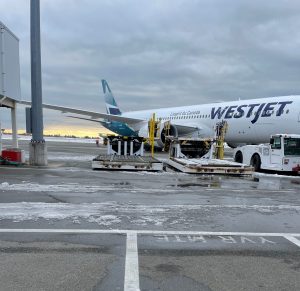 All in all, remember that no experience is bad experience. Despite not finding my passion in HVAC and plumbing, I very much enjoyed my co-op at YVR, and gained so many useful skills. Don't feel discouraged if you are not enjoying the technical aspect of a work term as much as you thought you would. We are all just students trying to figure out what we want to do after our degrees, and sometimes that involves some trial and error.