Hello reader,
In July I traveled with my team, ThunderBikes, to Northern California to participate in the Lost Sierra Electric Bike Festival, hosted by EcoBike Adventures. It was a 3 day event consisting of various races and e-bike competitions and showcases. Design competitions are big events that teams work towards every year. At UBC, there are many design teams that compete in competitions annually, many of which are organized by SAE. This is the first competition our team have ever attended, and it was a great chance to establish our reputation as one of the newest design team within the engineering department. In this post I will tell you all about our preparation the week prior to the trip as well as the journey to California.
The week before competition is always the busiest and most chaotic period during the year. Everything for the trip had to be arrange and final repairs and adjustments were made to our bike. Like most road trips, we had to plan our transportation, lodging, food options and what to pack. Transportation was complicated by the fact that we had to store our e-bike, which was over 100 lbs inside the car. With the help of Modo, we managed to rent a Toyota Sienna, which comfortably fit all three people coming to competition, all our bags and the bike.
Lodging was also difficult to find, since the festival was being held near a forest and an hour away from the nearest city. Fortunately, our host, Eco Bike, offered camping accommodation including running water and toilets. They were generous enough to offered us free tickets to the festival and free camping. All that was left was to collect camping gear, tools to work on the bike while on the road and we were ready. On a side note for all international students, be sure to get your US Visa early. Applications usually take a couple of days, and after that you need to arrange for an interview. The whole process takes about 5 weeks, so be mindful of that if your competition takes place in the US.
We planned our route to get to California; since all of us had either classes or work, we could only take a few days off. We planned to leave on Thursday afternoon and get back by Monday, which meant a lot of driving each day. Our destination in California was the Sierra County, about 1600 km from Vancouver; we planned on driving to Seattle (4 hours) and spending the night there, then driving 12 hours on Friday to Sierra.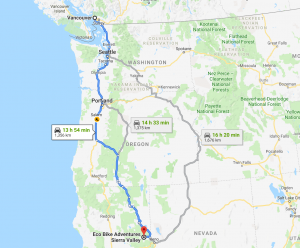 We headed out on Thursday at 5 pm. it took us 1.5 hours to get to the border and about half an hour to get through. After having dinner in Bellingham, we drove to Sammamish, a suburban town outside of Seattle. Our night was a short one, and we left at 3 A.M to continue our journey; we arrived at Salem, just outside of Portland at 8 A.M and had a breakfast break. We then continued through Umpqua National Forest to Klamath Falls, where we stopped for lunch and bought some extra camping accessories at the local Walmart. Finally, we arrived at our campsite off the road in the Sierra County, California around 6 P.M. We spent the rest of that day setting up our campsite, cooking dinner and doing some small checks on our bike.
Stay tuned for part 2, where I discuss the events of the Festival!
Take Care,
Huy