Mechanical Engineering 2025
Mechatronics Option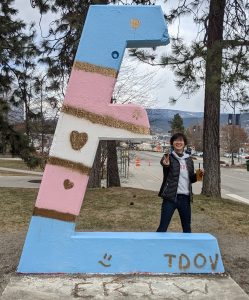 A little bit about me…
Hello, I'm Robyn (she/they). Dunno what I want to do with myself yet, but proud to be a part of the mechatronics specialization anyway 😀
I dream of one day owning a mini cooper so I can park really far into the parking spot so people think it's free but actually no sorry here lies mini cooper.
I wish I had known before I came…
You feel like everyone else learns way faster than you but actually they think you learn faster than them and it's this strange dance of realizing we are all people and we all struggle. It's okay if you spend 5+ hours at home trying to figure out what your prof said about shear flow. Doesn't make you a 'slow learner' or a 'bad student' or 'not cut out for this'. Take a break, ask for help, come back to it! Chances are the rest of the class is also struggling.
I chose mechanical engineering because…
I like to make stuff! I don't yet know what I want to do career-wise, but I felt mechanical engineering would be a great program for learning foundational knowledge and skills. Learning about structures, control systems, and designing for the real world in MECH makes me feel better equipped to tackle all sorts of projects. Even if I don't know anything about it yet, I know what I can do to figure out what I need to learn.
Mechanical engineering at UBC in one word…
Crunchy
What I like best about my program…
Access to resources and training for making real stuff. There's really good support for that kind of thing – MECH's shop techs are some of the coolest people here to help you.
One of these days I'm going to graduate and then find myself deprived of all tools. I don't even own a drill because I just go use my design team's stuff.
Outside of the classroom, I am involved with…
UBC UAS (Uncrewed Aircraft Systems)
UBC Shotokan Karate. Just started learning a year ago, very cool highly recommend
Favourite moment/memory so far…
It's always nice to finally leave your workspace late at night after spending hours trying to fix something that broke. Then pop in the earbuds and go to chill at random spots on campus. Best feeling ever – UBC is very pretty at night when you're not grinding out assignments.
Articles
Sorry, no posts matched your criteria.