Category —
2.6 Other Types of Disorders: Learning Disabilities
Children with learning disabilities (LD) experience difficulties when processing certain types of information. It takes them longer than others to learn new things, especially abstract information. Since reading, writing and math are all abstract tasks, children with LD struggle to develop one or more of these essential academic (and life) skills (Fig. 1).
Figure 1. Academic skills
LDs are not usually diagnosed before a child is 9 or 10 years of age. But the signs of a possible LD can be seen in the preschool years. To learn about these signs, please visit the zero to six part of this course.
LD is a neurological disorder. It appears that the brains of those who have LDs are "wired" differently than those of typically developing children. That is, children with LD process information differently than others. LDs are lifelong conditions. Children learn how to live with a learning disability and can certainly learn how to read, write and do math, but the learning disability itself does not go away.
There are many types of learning disabilities. The most common types are described below:
Dyslexia: a disorder of reading. Children who have dyslexia have trouble understanding written words and often struggle with phoneme awareness (see ECI Glossary). Children with dyslexia struggle when it comes to understanding what individual words are made of. They also struggle when it comes to understanding what they are reading. For example, the word "blue" is made of a blend of two consonants, "bl", the long vowel sound "u" −and when they write this word they need to add the silent "e" at the end."
Because dyslexia is a language-based disorder, many children with dyslexia are usually late reaching language development milestones;
Dysgraphia: a disorder of writing and spelling. Children with dysgraphia find it difficult to write and spell correctly. They also find it difficult to write within the limits of a certain space. They often struggle with punctuation (Fig. 2)  (for example, using commas);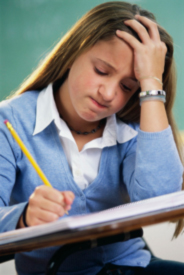 Figure 2. Struggling at school
Dyscalculia: a disorder of math. Children with dyscalculia struggle with all types of math operations, from the simplest to the most complex ones (Fig. 3). This means that they may know and write the numbers, but cannot understand how to use them when adding or subtracting. For example, if asked to add "15 + 5 = 20" they may not make any sense of this statement unless they work with objects and count them one by one.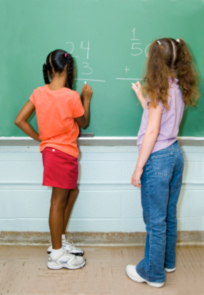 Figure 3. Struggling with math
Auditory processing disorder: the child has difficulty processing information that is presented to him or her orally, despite having typical hearing;
Visual processing disorder: the child has difficulty processing information that is presented to him or her visually, despite having typical vision.
It is not uncommon for a child to have more than one learning disability. That is, a child can have both dyslexia and dyscalculia. Also, some children with LD also have difficulties with attention or ADHD.
LDs can have a serious impact on the development of the child:
Children with LD are usually placed in the regular classroom, which is where they belong. They have an Individualized Education Plan (IEP) (see full Glossary), and could benefit from the following in and out of school services:
Special education: the special educator or resource teacher will help the regular education teacher accommodate children with LD into the regular classroom. He or she will help the child with LD improve his or her reading, writing and math skills (Fig. 4). He or she will also assist the regular education teacher in making adaptations for the child with LD. This could include the following: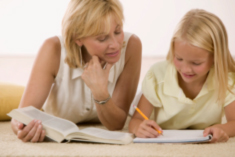 Figure 4. Working with special educator
Breaking up what the child has to do into smaller tasks;
Giving them more time to do what they need to do;
Using simple language when communicating with them;
Encouraging them to use graphic organizers, which could make what they have to learn more clear;
Giving them outlines of lesson, with important words already highlighted;
Giving them frequent breaks.
School psychologist: The school psychologist will complete a full evaluation with the child and interview parents and teacher(s) to find out about the child's specific difficulties and how to provide support for the child throughout his or her school years. The school psychologist will work with parents and other professionals in the School Based Team, including the child's teachers, school administrators and other professionals that are listed below. In British Columbia, children who receive a diagnosis of learning disabilities are eligible for special needs support, including an Individualized Educational Plan or IEP and receive a special needs designation;
Speech and language pathology (SLP): the SLP will help the child with language-based LD improve all aspects of his or her language skills. Reading and writing are language-based skills, so improvement in language could result in an improvement in reading and writing. The SLP will also help the child with LD learn the pragmatics of language;
Occupational therapy: the OT will help the child who has LD to improve his or her fine and gross motor skills, as well as his or her coordination and balance;
School counselor: the school counselor could help the child with LD manage his or her emotions, and adjust to the fact that he or she learns differently than others;
Clinical psychologist: if the child with LD also has a diagnosis of a mental illness, such as depression, then regular sessions with a clinical psychologist may be warranted.
Despite the fact that many children with LD also have ADHD, and/or a mental health disorder, most grow up to become healthy and happy adults, who are active and fully-contributing members of society (Fig. 5).
Figure 5. Fully-contributing member of society
August 5, 2012 No Comments