This is an amazing TED's talk. I strongly recommend it to all people who care about education.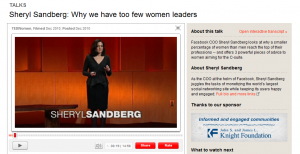 Chief Operating Officer of Facebook, Mrs. Sheryl Sandberg talks about why women are underachieving despite all the efforts that had been done in the last decades.  This is true "anywhere in the world" in "any field" and this is certainly true in science, engineering and technical fields. She states the problem very clearly and what is even more important – she offers solutions! The talk is only 15 minutes long. Make an effort and watch it and bring it to your students. It will be valuable for men, women, boys and girls… But the most important message that I got out of this talk is that WE HAVE TO CHANGE OURSELVES. We have to start with ourselves if we want to change who succeeds in our society. Notice, Sheryl Sandberg has two kids, a stellar career and her husband has a stellar career as well. So they did figure it out and we can do it too!
The problem "Women are not making it to the top of any profession anywhere in the world!" Solution: Listen to TED's talk by Mrs. Sheryl Sandberg: Click here.