As our Winter I team is winding down, I have an opportunity to pause and reflect on what I have learned last term. It was a great term with interesting courses, research, publications and conferences. I am also getting ready for teaching my ETEC 533 course – Technology in the Mathematics and Science Classroom. It is an on-line course in the Master of Educational Technology Program at UBC. It is the first course I have ever taught in the Faculty of Education at UBC and it happens to be one of my favourtie. It helped me to rethink how we can teach online, how we can support each other and how an instructor and the students together can do so much more than each one of us could have done individually. I have learned more from teaching this course that I have learned probably from any other course I have taught. I described my experiences in a book chapter we recently published:
Milner-Bolotin, M. (2014). Making online graduate teacher education courses matter – from theory to successful technology-enhanced practice. In T. G. Ryan & D. C. Young (Eds.), Teaching Online: Stories from Within (pp. 10-31). Champaign, IL, USA: Common Ground.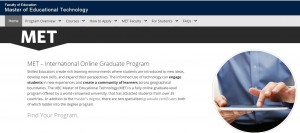 I am looking forward to teaching it in 2015!