I am so excited about this opportunity to attend this conference. I feel a little intimidated here (a lot) as the people here know so much about technology, but I feel I can learn it. It is exciting to see people who are doing these amazing things.  Having an opportunity to interact with people who use technology in creative and purposeful ways in order to improve students' mathematics (and science) learning is very refreshing and inspiring. I keep writing notes of everything I hear about here. For example, Audrey McLauren – a mathematics teacher from Montreal is such an inspiring teacher who teaches on-line and who is doing an amazing job at inspiring her students and promoting meaningful mathematics learning.
A few interesting things I want to follow up when I am back home:
1) Audrey McLaren's mathematics blog: http://audrey-mcsquared.blogspot.ca/ – I will follow Audrey on twitter
2) Integration of SMART Board and GoeGebra (I will be following up with Giancarlo Brotto about it).
3)  A Virtual Mathematics Learning environment – by Prof. Gerry Stahl from Drexel University and his colleagues
4) Discussion with Dragana Martinovic about how she and her colleague have done the analysis of her students' Pedagogical Content Knowledge through asking him to evaluate different proofs of the derivation of the area of a trapezoid.
5) Learn how to embed different applets in Word and PPT. I have to explore GeoGebra Tube more and see what they are discussing on their Facebook page.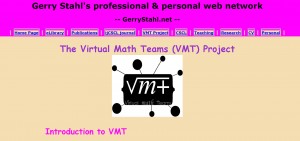 To be continued… I have a lot to learn!