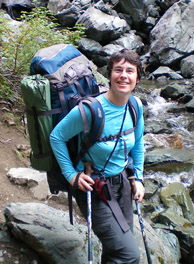 On Wednesday, June 20 Sue Stewart passed away after a courageous battle with cancer. The UBC Rehabilitation Science Online Programs as well as the Department of Occupational Therapy and Occupational Science, and Department of Physical Therapy are mourning the loss of their colleague. Sue taught for many years in both departments, and more recently in the Master of Rehabilitation Science program. Her energy, enthusiasm and unending positivism will be greatly missed by all. We extend our deep felt condolences to her husband Bill and their three children.
Sue was part of the first graduating class of the online Masters in Rehabilitation Program at UBC in November 2007. She did a qualitative study on Electronic Mentoring and examined its usefulness as a method of providing clinical support to sole charge therapists in remote locations. It was published in the International Journal of Therapy and Rehabilitation in April 2009. This research project fueled Susan's passion for using technology in continuing education and clinical support. She then developed and piloted training modules for electronic mentors in five health regions in BC.
Sue was a Clinical Assistant Professor at UBC and taught pediatric neurology to the entry-level physical therapy students and normal development to the occupational therapy students. She worked at Sunny Hill Health Centre for Children and her main research interest was in the effects of prenatal substance exposure on children. Specifically she was involved in research examining the possible effects of the mother's use of anti depressants on the early development of their children.
Sue loved the outdoors and took every opportunity to ski and hike with her three children and husband in the coastal mountains.
Sue's funeral service will be held at St. John's Anglican church in Vancouver (5350 Baillie St. at West 37th Ave between Cambie and Oak) at 4:30 p.m. on Saturday June 30.
Please post any memories or thoughts you may have to help us remember Sue, her leadership, passion and contribution to the rehabilitation community.