Rallies and Demonstrations at Three Vancouver Schools Today, Thursday, October 20.
Parents Care; Teachers Care; Support our Teachers on the Line!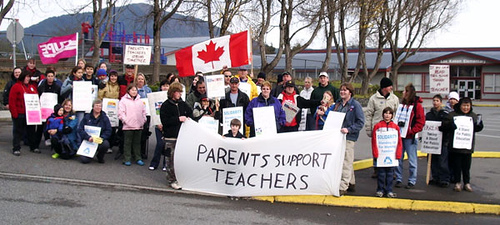 Source:PRDTU
Kitsilano Parents to Rally at 10:00 am (see details in earlier entry)
Tyee Elementary Parents to Rally in Support of Teachers at 12:00 noon.
(Vancouver) Parents at Tyee Elementary School will be holding a rally to support striking teachers on Thursday, October 20.
Tyee parents are inviting others to join them at Tyee Elementary to show support and appreciation for teachers around the province – bring signs and noise makers.
Thursday October 20; 12:00 – 1:00pm
Tyee Elementary, 3525 Dumfries (19th and Knight)
(For more information please contact Helesia Luke at 778.858.0553)
Queen Victoria Elementary Parents to Rally at 2:30 pm, Thursday, October 20, 2:30 p.m.
Rally at the cul de sac on 4th, one block east of Commercial
If you are driving, please park on Victoria near 4th
Protest Songs and BBQ