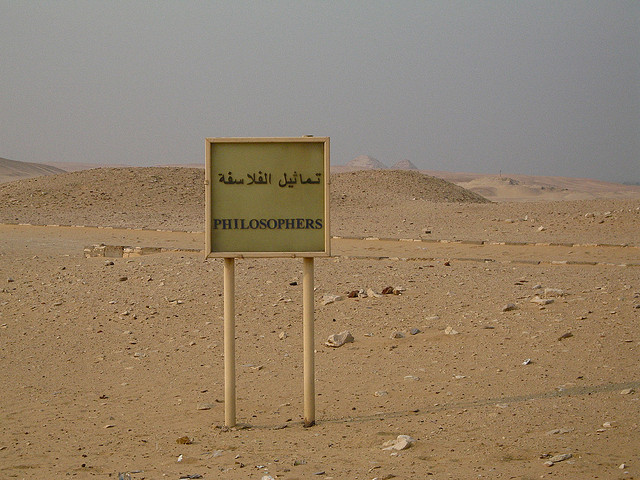 Wed., Jan. 3



We'll just introduce the class and talk a bit about our initial thoughts on what philosophy is–we'll put them on this document.
Below are some optional things you might read/listen to/watch to hear what some people think philosophy is (choose as many as you'd like).
Podcasts
"What is Philosophy?" Interviews with numerous philosophers answering this question, from the Philosophy Bites podcast. See the link in blue towards the top of the page (it's a busy page, so easy to miss the link!) (it's 25 minutes; you can listen to just part of this if you'd like)
Definitions of philosophy from many philosophers, from the Philosophy Bites book (may be similar to the podcast, above). From http://www.brainpickings.org.
Videos
"What is Philosophy For?", a video by "The School of Life" (about 5 mins)
"What is Philosophy?" a video with an answer by Jack Russell Weinstein, Director of the Institute for Philosophy in Public Life. (6 minutes)
"The Value of Philosophy in our Daily Lives," a video by Tim Maudlin on Big Think (about 3 mins)
Blog posts
"What is Philosophy?" a blog post by John S. Wilkins, an Australian philosopher.
Discussion meetings Jan. 5-7



No discussion meetings this week. Instead, please put some thoughts on this document (if you didn't do so during class) as to your current view of what philosophy is. It doesn't matter if you have never taken a philosophy class before or don't know much; just put down what you think at the moment! You don't have to have read or watched anything above before doing so, though you may if you wish. The above readings/videos/podcasts are all optional.
Checklist of things to do this week:
Read the syllabus
Watch the videos and read the texts for next week (see below)
Sign up for Learning Catalytics to use for in-class activities (if you'd prefer to do it on paper please let Christina know). The access code to register for free has been sent via email. If you didn't get it, please email Christina.
---
Monday, Jan. 8



Required
1. Watch a background video on Plato and Socrates, which will help you understand Euthyphro.
2. Read Plato, Euthyphro. This is a dialogue written by the ancient Greek philosopher Plato, with Socrates as a character (as noted in the above video Plato often does). This dialogue is fictional in the sense that it may not have taken place exactly as written (Plato probably wrote it after Socrates' death). But Socrates was indeed a real person! Socrates is speaking with a priest named Euthyphro, and asking him about the nature of piety. Socrates is looking for a single, universal definition of the concept of piety. Pay attention to how Socrates speaks/acts in this dialogue, as I'll be asking your views on it in class!
You can either use the Word or PDF documents below for Plato's Euthyphro, or access this text in epub or kindle versions on the Project Gutenberg site.
Optional:
Wednesday, Jan. 10
Required
1. Watch a short (4 minutes) background video to Plato's Apology:
2. Read The Apology by Plato, which is an account of Socrates' trial, by Plato. We can't know for sure if this is exactly what happened in Socrates' trial or not. There is another account of Socrates' trial by an ancient Greek philosopher named Xenophon, and it is slightly different. Plato has Socrates say in the text that he sees Plato in the audience, so Plato seems to be suggesting that he was there and thus this is an accurate account. But we can't know for sure. We do know that Socrates was indeed put on trial, convicted, and executed, though!
You can either read the Word or PDF versions below (both are the same text), or access this text in epub or kindle versions on the Project Gutenberg site.
Optional: