May 30th, 2013 by whatcheernetop | 3 Comments »
As part of UBC Library's commemoration of Canada's National Aboriginal History Month, Rare Books and Special Collections (RBSC) is pleased to present the return of last fall's popular exhibition "The Iron Pulpit": Missionary Printing Presses in British Columbia. The exhibition features materials produced on missionary printing presses in British Columbia between the 1850s and 1910s, and situates its subject in contexts of Indigenous-Christian encounter, colonialism, and print culture in the province.
Christian missionaries were deeply implicated in processes of Indigenous land dispossession and colonial assimilation in British Columbia, and printing presses supported this effort. The exhibition's curators acknowledge that this is a sensitive topic in our contemporary climate. Current public discussions concerning residential schools are a stark reminder of Christianity's central role in Canadian colonialism, and this project situates missionary printing presses and their imprints directly in this context. At the same time, the exhibition joins recent scholarship in advocating and advancing more nuanced interpretations of religious encounter.
Highlights from the exhibition include:
The Thompson Liturgy, printed on the St. Paul's Mission Press, which contains surveys and inventories of the mission at Lytton, BC, including a list of villages, chiefs, and watchmen belonging to St. Paul's as of January 1, 1873.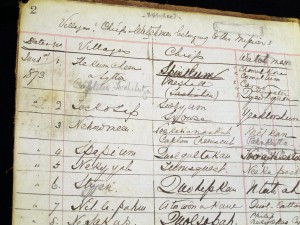 Jean-Marie Le Jeune's 1897 Polyglott Manual, which translated Latin Prayers for the mass into eight different languages and dialects, including Shushwap, and was printed on the Kamloops Mission Press.
Ignis, the Nisga'a story of the formation of a large lava plain in the Naas Valley, written in both English and Nisga'a and printed by missionary James Benjamin McCullagh on the Aiyansh Mission Press in the early 20th century.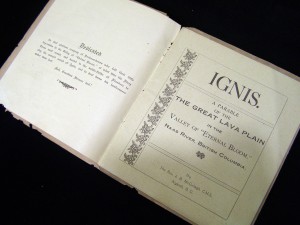 The exhibition was originally curated by the Alicia Fahey (PhD Student, Department of English) and Chelsea Horton (PhD Candidate, Department of History). Their impressive research resulted in a fascinating, scholarly, and detailed exhibition catalogue, which includes an introductory essay, item descriptions, and a checklist of extant missionary printing press imprints. Many thanks to Alicia and Chelsea for their incredible work!
The exhibition will run from June 3 until June 28, 2013, in RBSC, on level one of the Irving K. Barber Learning Centre, and is open to the public Monday to Friday, 10 a.m. to 4 p.m.
The theme for UBC Library's Aboriginal (Un)History Month this year is "Engaging Indigenous Knowledge(s)." The month-long series of events, exhibitions, and displays will introduce ways UBC Indigenous scholars are bridging communities and transforming academic spaces through Indigenous approaches to research, pedagogy, and governance. Aboriginal (Un)History Month also aims to educate and invite dialogue about (inter)relationships between place, recognition, and memory.