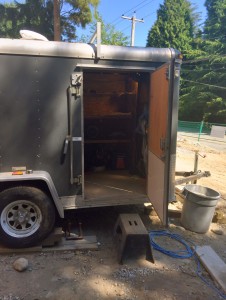 Mobilization
Mobilization refers to the initial stage of a construction project where preparations occur onsite prior to the commencement of any work. At this point in a project, the contractor has been selected and building plans have typically been approved by the governing municipality.  The impacts to surrounding watercourses are typically low during this phase of a construction project.  For residential construction projects, the following tasks may be associated with the site mobilization stage of a project:
Tree protection fence installation
Riparian protection fence installation
Site safety fence installation
Site toilet installation
Delivery of machinery
Notification of neighbours
Development of site specific traffic management plans
Establishment of site work office & associated work trailers
Map out location for future soil stockpile onsite
Engage all required professionals (various Engineers, Arborists, Biologists, etc.)
Display all required work permits on site as per municipal requirements
Requirements differ between municipalities. With respect to trees, the District of North Vancouver has enacted a Tree Protection Bylaw while the City of North Vancouver and the District of West Vancouver have not enacted Tree Protection Bylaws.
Demolition
Demolition is the removal of the existing home from the lot where a new home will be built.   Lots such as these are referred to as a brown field sites because they have previously been built on. If a home is being built on a lot that has not previously had a home built on it, the lot is referred to as a greenfield site. Typically during the demolition phase of a project, an excavator removes the old home and the debris is sorted and either recycled or sent to the landfill. Drywall, metal and wood products can be recycled.
Metro Vancouver created a resource titled the DCL Waste Management Toolkit, which is a guide for contractors.  This resource can be used to reduce the amount of waste sent to the landfill during the demolition, land clearing and construction phases of a construction project.
Underground oil storage tanks should be properly decommissioned and removed prior to demolition. Municipalities have different ways of addressing underground oil storage tanks.  The City of North Vancouver does not currently provide direction to homeowners or contractors with respect to how to decommission underground storage tanks.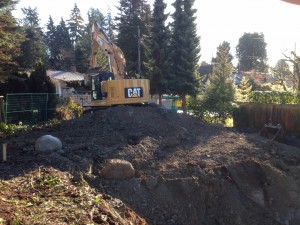 District of North Vancouver RUST
District of West Vancouver Underground Oil Tanks
Site Clearing
After the existing home has been removed, site clearing can take place. Site clearing typically involves the removal of non-protected trees as well as other vegetation and structures such as sheds, decks, carports and other detached structures located on the building lot.