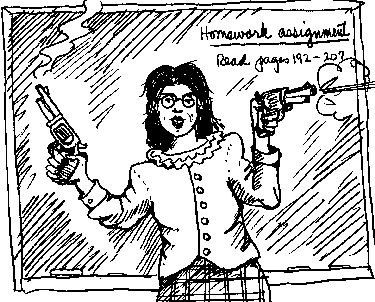 Teachers in Harrold, Texas will be allowed to pack heat in the classroom beginning this month, another advance in school reform in the USA. The AP reports that "For employees to carry a pistol, they must have a Texas license to carry a concealed handgun; must be authorized to carry by the district; must receive training in crisis management and hostile situations; and must use ammunition designed to minimize the risk of ricocheting bullets."
At first I thought I this was a horrifying idea, but if they use low ricocheting ammo then I guess it's okay.
So I guess teacher educators in Texas will have to start revising those classroom management syllabi.