The Rouge Forum update, with details about the Chicago Teachers CTU victory, the students' win in Puerto Rico, and much more (see the ongoing tragedy of Detroit) is here: www. richgibson .com/blog/
The Rouge Forum Conference schedule, August 2-5, 2010, George Williams College of Aurora University, Williams Bay, WI, is here.
June 19: Juneteenth
1865 – Over two years after the Emancipation Proclamation, slaves in Galveston, Texas, United States, are finally informed of their freedom. The anniversary is still officially celebrated in Texas and 13 other contiguous states as Juneteenth.
Little Red Schoolhouse
Kellen Blumberg, High School Essay Winner, on the Ratt: "In fact, tests have shown that the emphasis on standardized testing has actually led to a reduced amount of "teaching higher-order thinking, time spent on complex problems, and amount of high-cognitive context in the curriculum." National standardized testing has led to a teaching style that is less innovative and more rigid. Creative teaching styles have been shackled by new standards, and the importance of high test scores has taken precedence over the value of genuine learning. Standardized testing has led teachers to "teach to the test" instead of instilling the fundamental principles of critical thinking,"
Duncan Loves Those Ed-Union Hacks and His Ratt: "Mr. Duncan used his time with the lawmakers to say that the administration does not view charter schools as the answer to closing the achievement gap between affluent students and their low-income peers. He also went out of his way to downplay what he said was the media's misportrayal of the administration's agenda as a battle between education reformers and teachers' unions."Resist those easy platitudes and narratives," he said. "There are dozens of examples of breathtaking union leadership."
What Actually Does Motivate People?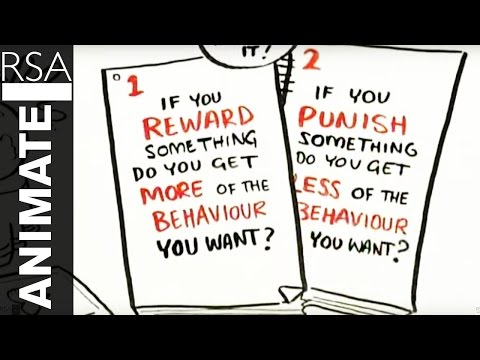 CSU System Fees Hiked Again: "California State University Board of Trustees on Friday approved a 5% fee increase for undergraduate students for the fall, taking action at a special board meeting in Long Beach. The fee hike translates to a $204 increase for full-time undergraduates, bringing the total university fee to $4,230 for the 2010-2011 academic year. Including campus fees, the cost for an undergraduate to attend a Cal State campus would rise to $5,097…Last fall, undergraduate fees rose 32%, after an unprecedented reduction in state support, resulting in a deficit of $584 million."
D.C. Teachers Ratify Merit Pay Contract: "Teachers in D.C. have voted overwhelmingly to ratify a tentative union agreement, a deal that's been almost three years in the making. More than 1,400 union members voted in favor of the contract, while approximately 400 voted against it."
NYTimes Letters: Big Tests Create Big Cheats: "Testing is fine as long as it has no high-stakes results; test scores along with other information help us know what reforms are working, as the editorial points out. But once these tests are linked to high-stakes consequences, like teacher pay, tenure or the closing of schools, the results are no longer dependable for diagnostic purposes, either for schools or individuals."
Read the full update here.