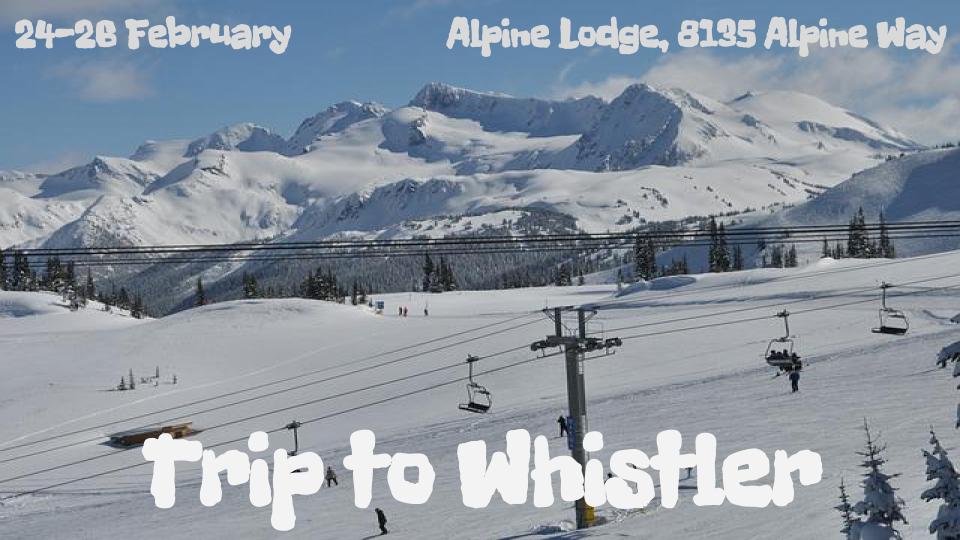 Join us for our annual trip to Whistler from 24-26 February 2017 (please note date change)! Network with your fellow postdocs, discuss your research, and whether you'd like to ski/snowboard/cross country, there will be something for everyone!
Cost for Friday & Saturday night's accommodation: $115.00 per person (including light breakfast and tax)
Accommodation Details: The Alpine Lodge Hostel is located 4 km north of Whistler Village. The bus stop is just steps away and goes directly to Whistler Village. All rooms have mountain views and a balcony access. We have booked 2 rooms on the third floor, each furnished with a private bathroom.
RSVP now – deadline is Monday, 16 January. We have booked 8 beds (2 rooms, 4 beds per room). Places will be allocated on a first come first serve basis. Please note that payment is required to secure your place. Unfortunately, due to space limitations, refunds will not be possible. You can also organize your own accommodation, and we'll meet you for the activities.
Transportation: Car pools are the cheapest option, so if you have a car and can fit a couple of people, please let us know. If we don't have enough cars, we could rent cars or take public transportation – Greyhound or the Whistler Shuttle can be reasonably cheap when booked in advance.
Pass and equipment info: You are responsible for purchasing your ski pass and/or equipment rentals. If you purchase an Edge Card online 48 hours in advance, you can save some money. For more info see http://www.whistlerblackcomb.com/. Discounted ski/snow board rentals are available at the Alpine Lodge. Check out the Whistler Blackcomb site for more information relating to passes, rentals, and lessons.
Please contact Jessica, if you have any questions.