by Jing Liu ~ May 8th, 2009. Filed under:
Professional Development
.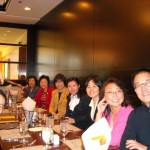 Feel lucky meeting so many colleagues sharing common interests. I've learned the most from Mr. Ma's presentation on large set reprints and duplicate titles among them. More and more libraries are going for shelf-ready and the service prices are dropping.  Chinese e-books  and movie DVD collections have become common. Besides popular culture and film studies, science and technology in Asia are the new focus of many researchers who demand for information from ancient time to the latest.