by Jing Liu ~ November 17th, 2011. Filed under:
Experience
,
Libraries in China
,
Reference Questions
.
A'Huang has already connected me to the History Institute. She was busy training that day, so Lao Liu took me to Mr. Yuan, who generously showed me the unique item, a hand-written copy from early Qing.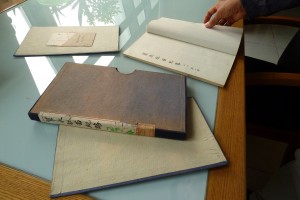 CASS has my Childhood friends and Wuhan U buddies. The hyper-exciting chat can never end, all my needs in Beijing are their prioritized responsibility.

They travel and spend their vacation time together, their kids can also play together. I envy them and hope they can bring me this kind of group activities to Vancouver some time soon.
Since CASS libraries have so much treasures, I'd come back many times in the future. They promised me that they won't change jobs and will retire in their current positions. One-day reunion is too short, we promised to meet again when I return from Taipei. Yeah, I will have my book royalties then.