by Jing Liu ~ November 28th, 2011. Filed under:
Events
,
Experience
,
Instructions
,
Libraries in China
,
Professional Development
.
Glad to see Wuhan as one of the stops of the TGAG trip. On top of the work, it's like a reunion event. Jingxia successfully worked out the program held in her City Library, just like she brought her library into IFLA. I felt pressure after I saw the program package already in my hotel room.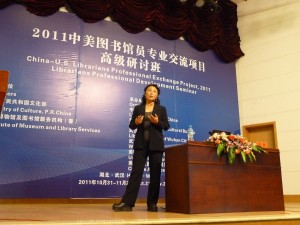 The group had a meeting after dinner to clarify what we each need to work on. Thanks for the well equiped auditorium, I could move freely on the stage and had my eyes on the entire audience.
Glad to learn the Wuhan Library's weekend workshops. Some library directors grabbed me to the side and told me their dilema and they had to activate all kinds of connections in order to survive.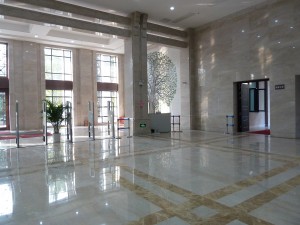 Wuhan U just built and was about to open another new library. Marble floor and walls in the lobby. We used to have dance parties in the dinning hall near our dorm, it would be nice to dance here.