by Jing Liu ~ September 24th, 2012. Filed under:
Events
,
Experience
.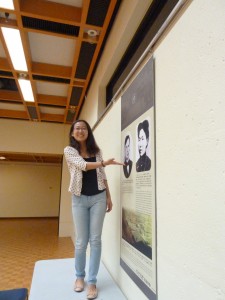 The group visit this morning reminds me what Mr. Peter Eng said at the Opening. He encouraged us to involve more young people to the events like this Exhibit.
Cara is the most energetic ECE student at UBC. I am so lucky having her volunteered, originally as the photographer. She turned out helping with everything, including the rare book brochure design. Cara jumped up and down the table hundreds of times to hang all the panels before the TV crew showed up. She rushed into the Opening from her class taking pro photos. We happened to caught her images when she was busy.
Just like Peter, I really enjoy working for or with young folks. I wish we had money hiring Cara who could bring her UBC Digital Multimedia Lab experience to the library.